Celebrating and nurturing the community of Johns Hopkins women whose academic ingenuity will change the world.
The Johns Hopkins community is rich with female pioneers in myriad fields striving to impact the world. Yet women are underrepresented in commercialization here and across the academic community.
JHTV is eager to support women across campus in bringing their research to fruition through applied research, translation, and entrepreneurship.
Join the movement.
In the Spotlight
Help us to celebrate the community of Johns Hopkins women in tech by nominating a female colleague that deserves recognition.
Nominate the Next Generation of Innovators
Do you know a Johns Hopkins woman (student, faculty, or staff) who is breaking major ground in applied research? Is there a rockstar investigator or entrepreneur that you look up to? Is there an emerging innovation you mentor or are simply rooting for? Complete the form below to nominate her to be featured on our site.
FINAL EVENT


Pitch It On! An AccelHERator Competition
On October 20, JHTV will host Pitch It On!, a virtual pitch competition featuring Johns Hopkins women inventors seeking an award of $10,000 to support their innovation's development.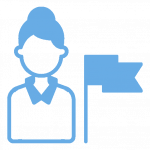 This is the final event in JHTV's AccelHERator series to support female innovation on campus. Three female-led innovations will be selected from a pool of applicants to present their pitches online to a panel of entrepreneurs for live feedback. The event culminates with the audience voting for the most compelling pitch which will be awarded $10,000. Applications to participate are closed but you are invited to attend. Click here to RSVP.
Missed our Pitching your Innovation and Building Relationships event on May 14? Watch the video recording of Christy Wyskiel, Executive Director of Johns Hopkins Technology Ventures, with Jill Carroll (JHSOM '99), Principal at S.R.One.