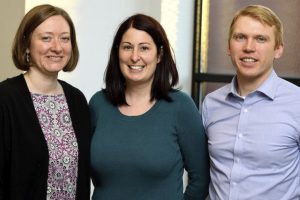 The increasingly popular "farm-to-table" restaurant concept promises diners a meal made with as many fresh and locally grown ingredients as possible. A team from Johns Hopkins Community Physicians' East Baltimore Medical Center is bringing this concept directly to their patients, many of whom struggle with food security and lack access to fresh produce.
The Baltimore Farm to Clinic Project distributed 1,100 pounds of produce last summer to more than 400 patients with hypertension, diabetes or obesity. The organization used a grant from the Johns Hopkins Urban Health Institute to partner with Karma Farm in Monkton to provide the free weekly deliveries.
The Baltimore Farm to Clinic team consists of an internal medicine physician, nurse practitioner, behavioral health specialist, community health worker and a medical assistant. The group launched the organization after patients reported running out of food by the end of each month and lacking access to fresh and nutritious produce.
Baltimore Farm to Clinic wants patients to both enjoy the produce and benefit from a measurable clinical improvement, whether better blood sugar control, weight loss or blood pressure and, ideally, decreased reliance on medication.
The organization recently received a Clinical Innovations Award by the Office of Johns Hopkins Physicians.
As a member of the 2018-2019 Social Innovation Lab cohort, Baltimore Farm to Clinic is using this year to refine its organizational structure and develop strategies for growth.
In five words or less, what is your organization's motto?
Food is medicine.
What are your goals and how will you get there?
Ultimately, we'd like to see the health care system acknowledge the importance of food as medicine by ensuring everyone has access to fresh, nutritious food as part of their medical care plan. We're not quite there yet, so we're working on increasing consumption of fruits and vegetables among people with chronic disease and expanding knowledge of healthy cooking methods. We hope to supply the evidence needed for payers to provide funding for food.
Why have you chosen Baltimore as your startup's home?
We all live or work in Baltimore and wanted to address a problem that many of our patients face. Several of our team members have worked in Baltimore for many years and have seen the impact of financial cutbacks on the city. We have appreciated the opportunity to learn from Baltimore residents and communities and to work alongside a group of diverse innovators effecting change within the city.
What opportunities make it a good place for growing a business or organization?
Baltimore has quite a few institutions of higher education, as well as huge networks in health care and social services.
In terms of startups and innovation, what's one (positive) thing that separates Baltimore from other innovation hotbeds?
Baltimore has many passionate individuals with hometown pride who are dedicated to improving the city for all.
If you could give your past self a piece of advice for creating a startup, what would it be?
Listen to the people you are trying to help and design a product that works for them after truly understanding the problems they face. Try not to get discouraged when you hit roadblocks. Keep asking questions and reiterating your idea.
What book or article inspires your work as a team?
Our team read an excerpt from "Scarcity: Why Having Too Little Means So Much," by Sendhil Mullainathan and Eldar Shafir, which has really helped us understand the dilemmas our population faces in their daily lives.
What innovator do you look up to? Why?
Jeff Brenner is a family physician who founded the Camden Coalition in New Jersey. He used an approach to medicine that really examined the root cause of illness and dysfunction, much of which is based in the social determinants of health.
What's your favorite healthy recipe?
You can't go wrong with a caprese salad, made from tomatoes, basil and mozzarella cheese. Drizzle with a little olive oil and balsamic vinegar. It's delicious!
Baltimore Farm to Clinic Project, along with the other members of the 2018-2019 Social Innovation Lab cohort, will present their work at the Impact + Innovation Forum 2019 on April 30. Click here for more information and to RSVP.