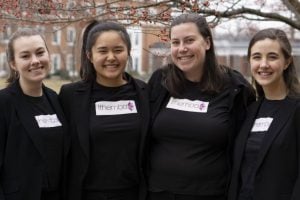 Four teams of graduate student entrepreneurs received the inaugural Thalheimer Graduate Student Award, with $10,000 in grant funding through The Johns Hopkins University's FastForward U.
The fund was established through a generous gift from businessman and philanthropist Louis B. Thalheimer, whose support for translational work at the university has benefited faculty members and students alike. Recipients of this new student award also will receive mentorship from experts in their field, serial entrepreneurs and investors, as well as additional resources from FastForward U and Johns Hopkins Technology Ventures.
FastForward U received 18 applications for the award, according to Kevin Carter, FastForward U's student program manager. Eight finalists were then interviewed by a judging panel that included Adam Toll, a 1992 Johns Hopkins University graduate and an investor and co-founder of Haste, an online service that provides faster connections for gaming.
"We had an incredibly tough time narrowing our applicants down to the actual recipients. It's a testament to how advanced these student ventures truly are and the compelling case they each make for receiving the funding," Carter says. "We're thrilled to see the breadth of innovative work that is happening, and that we're able to provide $10,000 to each of these top four ventures to support their continued growth."
The following teams received the Thalheimer Graduate Student Award.
Ithemba
Team lead: Valerie Zawicki (Whiting School of Engineering)
The pitch: Expand breast cancer diagnoses globally through a novel, affordable and safe diagnostic technology.
Breast cancer is the most common cancer found in women worldwide. The gold standard for breast cancer diagnosis is the core needle biopsy (CNB) procedure, but devices on the market are either disposable and costly or reusable with a high risk of internal contamination.
Ithemba's solution is a reusable, contamination-free and ergonomic CNB device that provides a safe and affordable solution. The device decreases cleaning time between procedures, creates significantly less waste than disposables and drastically decreases costs over time.
Ithemba plans to use the grant to secure its intellectual property, manufacture its device and perform initial testing, with the intent to submit a premarket notification application to the U.S. Food and Drug Administration.
OxyGen
Team leads: Jessica Dakkak and Jonathan Smith (Whiting School of Engineering)
The pitch: Provide more efficient portable oxygen to patients.
More than 2 million Americans receive long-term oxygen therapy to treat chronic respiratory diseases. These patients use oxygen tanks or portable oxygen concentrators (POCs) as part of their everyday lives. Both solutions present challenges. Oxygen tanks offer a wide range of oxygen flows but are heavy and difficult to maneuver, while POCs are limited in oxygen flow and battery life.
OxyGen's POC combines high-flow ambient air and pulses of concentrated oxygen based on blood oxygenation to provide treatment that is more effective, reduce oxygen waste and increase oxygen longevity outside the home. The startup hopes its device improves patients' quality of life while giving them peace of mind about their oxygen needs.
OxyGen plans to use the grant to solidify its intellectual property and benefit from mentorship offered through FastForward U as the founders transition from students to business owners.
Team lead: Timi Iwayemi (School of Advanced International Studies) 
The pitch: Create an online repository of government documents from sub-Saharan Africa. 
Policy data — electoral guidelines, business regulations, laws and investment guides, among other documents — has historically been difficult for citizens in Africa to access. PolicyVault Africa built a searchable database of such information from across the continent. In addition to improving access, the startup aims to use the public data to drive transparency in government, reduce bureaucratic bottlenecks and support government initiatives.
Relavo
Team lead: Sarah Lee (Whiting School of Engineering)
The pitch: Develop the PeritoneX, a disinfection device that reduces the risk of infection during home peritoneal dialysis.
More than 600,000 Americans are living with kidney failure, most of whom rely on hemodialysis, during which blood is taken out of the body to be cleaned. But some patients — currently 9% and growing — use peritoneal dialysis (PD), which cleans the blood nightly inside the body with a solution administered via a catheter through the lining of the abdomen. While PD has been found to give patients a better quality of life than blood dialysis, because patients administer the dialysis themselves, the risk of contamination of the tube ends during setup is higher. The resulting infection, called peritonitis, occurs in one in four patients, requires hospitalization 60% of the time and is a primary factor in one in six PD patient deaths.
The PeritoneX aims to reduce touch contamination by disinfecting potentially contaminated PD connection points after connections are made but before initiation of dialysis treatment. The PeritoneX is small, affordable and disposable.
Relavo plans to use the grant for prototyping and testing. The startup previously received translational funding through the Ralph S. O'Connor Undergraduate Entrepreneurship Fund and the Summer Undergraduate Entrepreneurship Award.