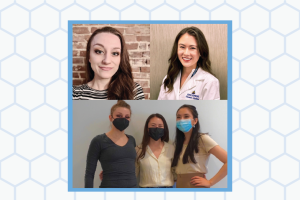 Danielle Nicklas, a Ph.D. candidate in pathobiology at the Johns Hopkins University School of Medicine, was awarded $10,000 in the third annual Pitch It On! competition held by Johns Hopkins Technology Ventures (JHTV). A public showcase of female inventorship at Johns Hopkins, this virtual event reflects JHTV's efforts to close the entrepreneurship gap in which women are much less likely to be patent holders and startup founders. Out of three pitches, Nicklas and her team's product, NovvaCup, received the most votes from the nearly 100 attendees. 
CEO Nicklas and chief operating officer Alexis Lowe have designed a reusable menstrual cup: a simple, affordable and sustainable alternative to menstrual products.  
Each of the three finalists — Nicklas, Shameema Sikder, an associate professor of ophthalmology at the Johns Hopkins Wilmer Eye Institute, and Danielle Gottlieb Sen, an assistant professor of pediatric surgery, had 10 minutes to present their technologies. Melissa Fensterstock, Johns Hopkins alum and co-founder and CEO of Landsdowne Labs, and Bahija Jallal, university trustee and CEO of Immunocore, returned this year as coaches, providing feedback and encouragement to the three finalists. 
The event provides the audience with a behind-the-scenes look at the translational funding pitch process, during which a panel of reviewers usually assesses detailed applications behind closed doors. It allows JHTV's community of faculty members, students, mentors and industry/investor representatives a quick glimpse at what women are building across campus. 
"This event reminds me why we do this work," Wyskiel said after Pitch It On! "The quality of ideas, the level of commitment and the clarity of vision from these teams are outstanding. Each of these teams was worthy of funding, as all women featured here will have enormous impact on society." 
Women found almost 40% of companies in the United States annually but receive only 2% of venture funding. At Johns Hopkins, women make up 44% of the faculty but only 11% of startup founders.  
Nicklas, who is in her fourth year at Johns Hopkins, was inspired to start NovvaCup after working at a medical device company. Wanting to develop something of her own, she realized there is a lack of simple and easy to use menstrual products on the market.  
"We were so excited just to be there," Nicklas says about Pitch It On! "Winning exceeded our expectations. We had been keeping track of Pitch It On! since it started three years ago. We knew we weren't competitive enough at that time, so we kept working, kept developing. We were excited when we finally were able to pitch alongside great women entrepreneurs." 
Lowe and Nicklas plan to use the $10,000 to collaborate with a design house to start their first manufacturing prototype. 
Sikder pitched Circlage, a platform created to assess surgical skill with the use of artificial intelligence. Sen pitched her invention of a wearable monitor that parents can use to measure infants' vital signs.  
Therese Canares, the 2021 Pitch It On! winner, announced this year's winner after providing an update on CurieDx, a digital health startup that incorporates machine learning to enable point-of-care testing and remote physical exams using a smartphone. She said CurieDx is now a part of the National Science Foundation's Innovation Corps — an immersive, entrepreneurial training program that transforms startups and innovations. Leveraging last year's prize money, Canares is continuing to develop CurieDx.  
Know a Johns Hopkins woman (student, faculty member or staff member) who is breaking major ground in applied research? Nominate her to be featured on the Women in Innovation webpage.