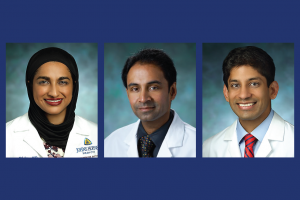 Three startups founded by Johns Hopkins University School of Medicine faculty members have each received $50,000 in Microsoft Innovation Acceleration Award grants to advance technologies that are using data science and artificial intelligence (AI) to address problems such as assessing surgeons' operating performances, evaluating sleep apnea and diagnosing eye diseases.
The grants are an extension of a collaboration established last year between Johns Hopkins Technology Ventures (JHTV) and Microsoft to help startups launch, scale and commercialize. In addition to the grants, Microsoft renewed its commitment as an official sponsor of FastForward, JHTV's startup accelerator, enabling the company to engage with FastForward entrepreneurs through office hours, mentorship and other programming.
"Our startups and researchers have benefited from the technical and business support they've received from the Microsoft team, which has committed a tremendous amount of talent and time to Johns Hopkins," said Mark VanderZyl, the senior operations manager for FastForward who manages the relationship for JHTV. "We are excited to continue our work together and help even more teams advance their commercialization goals."
Johns Hopkins and Microsoft's initial collaboration last year yielded 21 applications from commercial startups, 54 office hour sessions for advising, and support from digital architects and developers of Microsoft Azure, the company's cloud computing service. Fifteen startups joined the Microsoft for Startups program, which provides access to technology including Azure, Microsoft 365 and GitHub Enterprise as well as commercialization support. The Microsoft team also had office space at FastForward and held monthly office hours to advise and assist other Johns Hopkins startups and inventors.
Five companies, including two Johns Hopkins student startups, received the inaugural Innovation Acceleration Award grants last year. This year, JHTV received 22 applications, which were reviewed by a panel of FastForward mentors-in-residence, alumni and startup founders. While the first round had a separate application for students, the second round had one application open to startups, students, faculty members and teams participating in the Social Innovation Lab.
"Our judges were impressed with the variety of data science and AI technologies being developed at Johns Hopkins," said VanderZyl. "What set apart the grant winners was the disruptive impact the judges believe their innovations will have on society, hopefully in the very near future."
The award recipients are:
Shameema Sikder, M.D., director of the Center of Excellence for Ophthalmic Surgical Education and Training at The Johns Hopkins Hospital, for the EyeLearn platform, which uses deep-learning algorithms to analyze surgical videos to assess surgeon performance and provides a skill assessment and personalized feedback for individual surgeons. Sikder plans to use the grant to hire a software developer to integrate the platform on Azure and an engineer to optimize deep-learning methods that predict feedback for given surgical videos.
Harikrishna Tandri, M.B.B.S., co-director of the Arrhythmogenic Right Ventricular Dysplasia (ARVD) Program, for a low-cost, AI-based consumer device called SleepSmart that can evaluate sleep at home by recording and analyzing breath sounds to diagnose snoring and sleep apnea. Tandri plans to use the grant to purchase equipment, develop prototypes and design a phone app.
Nakul Shekhawat, M.D., M.P.H., ophthalmologist and eye surgeon at the Johns Hopkins Wilmer Eye Institute, for Visilant, a startup developing software products that enable screening and automated diagnosis of blinding anterior segment eye diseases. Shekhawat plans to use the grant on mobile app and algorithm development, as well as software tools.
Future Innovation Acceleration awards could go to any technology using digital solutions, according to VanderZyl. Microsoft's Global Social Entrepreneurship Program team is also starting to work with other programs at Johns Hopkins, including the social entrepreneurs in JHTV's Social Innovation Lab.
"Microsoft began its collaboration with FastForward and Johns Hopkins Technology Ventures to help support and bring to life technologies that could make a lasting impact in healthcare," said Toni Townes-Whitley, president of U.S. Regulated Industries at Microsoft. "The extension of our collaboration is a testament to the innovative research and work coming out of these startups. We congratulate this year's grant recipients, and we look forward to seeing the positive impact they will make in patients' lives."
The Microsoft company name was recently engraved on the Johns Hopkins Founders Wall, a marble and brick landmark on the Homewood campus of The Johns Hopkins University that recognizes donors that have given $7 million or more. That amount is equal to the original donation from Johns Hopkins himself to start the university and health system.