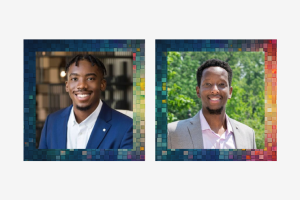 Brent Ifemembi, Co-founder and CEO, Drūl (Pictured Left)
Nelson Ndahiro, Co-founder and CTO, Drūl
Winner of Top Prize at Spark Showcase Fall 2021
Winner of Cohort Prize at Fuel Demo Day Fall 2022
WHERE DID THE IDEA OF DRūL ORIGINATE?
We met bi-weekly (or more) to have "white-board" brainstorming sessions and discussed many ideas from synthetic biology, AI, humanitarian social entrepreneurship, blockchain and healthtech. The idea to solve oral health issues was only one of them and became Drūl, an at-home saliva test to detect the early onset of oral disease. As we read more about the challenges in dentistry and oral health, we started to realize that this idea of oral screening could have legs.
WHO IS/WAS YOUR MENTOR? HOW DID THE RELATIONSHIP BEGIN?
Our main mentor has been Josh Ambrose, director of student ventures at FastForward U, he was most helpful in transitioning us from an idea on a whiteboard to actionable steps to move our venture forward and then recommended a more in-depth customer discovery program, like I-Corps. Josh also encouraged us to join accelerators and pitch competitions which led to us placing third at the national Pillar VC Petri competition. Along the way, Jack Fischer, a FastForward U mentor, and others have been very helpful in providing great feedback on our pitch decks and advising us on networking opportunities.
WHAT IS THE BEST ADVICE YOU HAVE RECEIVED DURING THIS JOURNEY?
Know your audience. Being able to present your idea, whether to a dentist, a consumer, a venture capitalist, or a med-device expert, requires a great deal of tailoring. We have different versions of our story that allow us to share our ideas and communicate parts we need help with more effectively.
WHAT ADVICE WOULD YOU GIVE STUDENTS WHO ARE INTERESTED IN ENTREPRENEURSHIP?
Do not be afraid to talk about your early idea to a variety of people. We would encourage students to start by talking with people about the problem they are trying to solve to see whether the idea is worth pursuing. It was a big surprise to us to see how far a couple of interviews could take us in refining our idea.
HOW HAVE THE RESOURCES AT JOHNS HOPKINS HELPED YOU?
As graduate students, the PHutures office has always been a good resource. Its workshops and concurrent programs (like Passport for Future Technology Leadership) allowed us to hear from people from different backgrounds who want to achieve similar things to us. FastForward U has been a big help in pointing us in the right direction and providing feedback. It has a wealth of resources and programs for students. Also, when they are not booked, the library whiteboard meeting rooms are great for brainstorming!