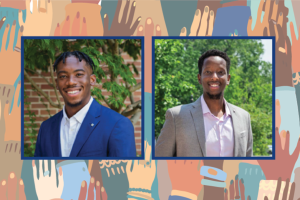 The following was written by Erica Avery, FastForward U's communications intern.
FastForward U's Spark Demo Day, held virtually last semester, featured 18 teams pitching their ventures for a total prize amount increased from $5,000 to $10,000 after a judge anonymously doubled the pot.
Spark is an early-stage track accelerator for teams to validate and explore their ideas, focusing on entrepreneurial topics such as venture basics, market research, and customer discovery.
The teams were divided into two cohorts for Demo Day, with Drūl and Satya Nutrition receiving the top prize of $3,000 each and PostPart and Ballot Curing each receiving second-place prizes of $2,000.
"Seeing the evolution of how we talk about our idea over time has been really great," says Drūl co-founder Nelson Ndahiro "We feel a lot more confident."
Drūl is an at-home consumer diagnostic company based around oral health. Oral diseases affect 3.5 billion people and approximately 200 million adults live with untreated tooth decay or gum disease, according to co-founder Brent Ifemembi. Drūl analyzes mailed saliva samples to detect and monitor early onset those conditions.
Ifemembi and Ndahiro, both chemical and biomolecular engineering Ph.D. students, began brainstorming startup ideas at the beginning of the pandemic.
"We both wanted to do entrepreneurship and solve problems with science, so we'd always bounce ideas off each other," said Ndahiro.
In addition to Demo Day, the team recently won third place nationally in the Pillar VC biotech pitch competition, receiving $20,000 in funding.
"It's really taking off since," Ifemembi said. "Now, with winning the Spark Demo Day, we've seen a lot of positive traction."
(To learn more about Drūl, visit Johns Hopkins Technology Ventures' TECHinCOLOR page.)
Satya Nutrition is creating a cost-effective and nutritious energy-dense paste to address the malnutrition crisis in South Asia. Satya Nutrition previously won a FastForward U Ignite award, a fund that supports a single task for a venture.
Runner-up PostPart is a telehealth company which screens and connects new and prospective moms with professionals that can help them with perinatal or postpartum mental health issues, something that affects one-in-eight mothers following pregnancy.
"We're trying to make [care] more streamlined, especially with telehealth making an appearance in our daily healthcare needs," says founder Lisa Stepanov, a post-masters' nurse practitioner student at the Johns Hopkins University School of Nursing. "I want to make sure when mothers are suffering from mental illness, they have somewhere to go that can help them quickly and efficiently because they're already busy with a new kid."
Stepanov uses a directory of providers she's made working with clinicians to connect patients with therapists or psychiatrists in their area. Stepanov, a mother of two kids under age 2, had the idea for startup but says the Spark accelerator helped her get PostPart off the ground.
"The rewarding part was figuring out what I needed to do to start my own business," she says. "I was elated [to win a prize]. I wasn't expecting it. I'm really thankful for what FastForward U has been able to donate to us and it validates my feeling that this is a potential venture that can be successful."
The Spark accelerator was led by D'Mario Northington, FastForward U's student programming coordinator.
"I really enjoyed the diversity in industries, founders, co-founders and JHU schools," Northington said. The main thing that kept me fueled last semester was watching the teams' ventures progress through our extensive curriculum and strategic advising. For next semester, I am looking forward to working with a brand-new cohort of curious, entrepreneurial-minded students and helping them turn their ideas into revenue-generating businesses."