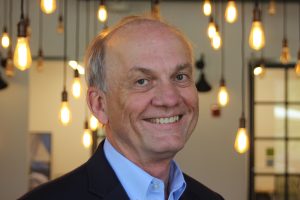 AJ Donelson is a Johns Hopkins alumnus who has been mentoring JHU start-ups and researchers since 2015. Donelson also serves on the review committee for the Cohen Translational Engineering Fund. As a Mentor-in-Residence, Donelson helps faculty and staff think about commercialization not only from a traditional customer discovery and marketplace focus but also developing awareness and support for a product from a broader range of stakeholders, including government policy makers and nontraditional funding sources. Currently, he is mentoring faculty from both the Whiting School of Engineering and Krieger School of Arts and Sciences on cutting-edge technologies in material sciences, engineering, renewable energy, chemistry and bioengineering.
Donelson's unique approach as a Mentor-in-Residence is shaped by his background as an attorney, public affairs professional and entrepreneur. His career spans 35-plus years advising private sector clients on opportunities and challenges at the intersection of business and government. Along the way, he helped build and sell two public affairs companies to publicly traded global marketing communications firms. He headed 3M's Washington office, advising the Fortune 500 company's CEO and senior management on public policy issues before Congress and the federal government.
As an independent consultant, he brings to clients a business development approach that incorporates strategies focused on building relationships and communicating effectively with customers, regulators, elected officials, third party stakeholders, and marketplace influencers.