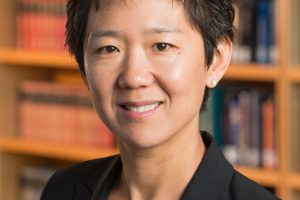 Rong Li's study of mitochondria in cells ultimately could lead to a treatment that stops or slows Parkinson's disease. Because her research is in the early discovery stage, however, Li acknowledges it lacks commercial appeal to many pharmaceutical companies.
That's why Li, director of the Center for Cell Dynamics in the Department of Cell Biology at the Johns Hopkins University School of Medicine, was excited to collaborate with RE-Stem Biotech, a match made with the help of Johns Hopkins Technology Ventures.
"They have a genuine interest in the science behind potential therapies. I really think that's the right mindset," says Li. "Even though the research is very basic, this is a company that doesn't mind early discovery."
The $2 million, multiyear partnership with RE-Stem allows Li's lab to expand its research, which is focused on how mitochondria help cells remove "protein trash."
Li says RE-Stem's collaboration could become a model for supporting basic research in other labs.
"I'm very keen on how to leverage basic discoveries we make in the lab and apply them directly to the disease," she says. "We have the deepest insight, but sometimes we don't have the funding so we stop at the basic level."
Sean Evans, JHTV's director of corporate partnerships, who worked with Li on the RE-Stem collaboration, agreed. The Corporate Partnerships team has connected Johns Hopkins researchers with more than $90 million in business funding in the last five years.
"Companies are typically interested in collaborating on post-discovery science, once there is some proof of concept on a specific and druggable molecular target," says Evans. "In this case, RE-Stem is helping to fund additional discovery and proof-of-concept studies to identify potential druggable targets, based on some initial and exciting discoveries made by Dr. Li's lab."
RE-Stem, founded in China in 2012, focuses on research and development of cell-based products and therapies. The company had been following Li's work for many years, according to CEO Benno Jiao, adding Johns Hopkins has "the gold standard of biotech labs."
"We are very pleased to collaborate with such a highly respected institution as The Johns Hopkins University in our efforts to address degenerative conditions," Jiao says.
Li knew Jiao and other RE-Stem officials prior to their business collaboration, which is how the company became familiar with her work. JHTV hosted representatives from RE-Stem late last year, taking them on a tour of Li's lab.
"Our scientific and management team was very impressed at the talent and knowledge of the team at Johns Hopkins," Jiao says.
Li's lab is examining the cellular basis of aging. As cells get older, mitochondria help remove proteins, especially disfigured ones, which clutter the cell. Li, a Bloomberg Distinguished Professor, has theorized that many neurodegenerative diseases that involve protein aggregation, such as Parkinson's or Alzheimer's, might be connected to mitochondria not doing their jobs, possibly because of diseased proteins themselves.
"A lot of our research is trying to understand the fundamental mechanisms that could apply to many different diseases," she says.
Jiao says RE-Stem will be mirroring Li's work at the company's facilities across China, starting with Parkinson's and potentially expanding to include more indications.
"China's biotech industry allows for access to a huge patient base, faster patient recruitment, less cost-prohibitive clinical trials, as well as government funding and support," he says.
Li, meanwhile, will continue her other basic science research at Johns Hopkins.
"The best medicine, the best technology is based on solid science and a deep understanding of the process underlying the disease," she says.
Want more information about JHTV's corporate partnerships? Click here.