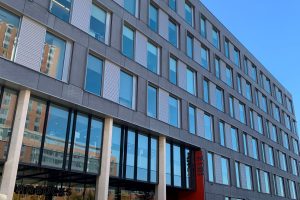 Professional staff members at Johns Hopkins Technology Ventures support faculty in translational endeavors, and they help industry partners forge research collaborations across the institution. To support these customers from campus and beyond, JHTV has welcomed new team members whose scientific backgrounds and industry-side experience will advance our mission. We are pleased to introduce them to you.
Mark Komisky is director of technology development, focused on non-life science technologies from the Johns Hopkins Whiting School of Engineering. Mark will be scouting for and working with technologies with significant commercial potential, including developing commercialization strategies. He has served as mentor to faculty at the Whiting School of Engineering and the University of Maryland, College Park.
Mark is a serial entrepreneur and technology executive with two decades of experience with startups as a founder, CEO and advisor. He has successfully positioned startups to raise nearly $10 million in capital during global economic downturns and has raised over $30 million in early-stage funding. Mark has a bachelor's degree from The Johns Hopkins University and a law degree from the Georgetown University Law Center.
Katie Cascino is a technology development associate. Katie works closely with Patrick Ho, JHTV's director of life science technology development, creating commercialization strategies for high-impact projects. Katie has a doctorate in cellular and molecular medicine from the Johns Hopkins University School of Medicine and a bachelor's degree in molecular biology from Colgate University.
Misato Miyamasu is director of corporate partnerships for life sciences. Misato oversees and helps manage the more than two-dozen industry research collaborations with Johns Hopkins faculty. Misato was most recently director of products innovation and strategy at the Henry M. Jackson Foundation and also spent five years at QIAGEN. She received a doctorate in immunology and pharmaceutical sciences from the University of Tokyo.
Pei Jasin is a business development associate on the corporate partnerships team. She primarily works on Johns Hopkins' strategic research alliance in ophthalmology with Bayer AG, a multimillion-dollar funding agreement extended earlier this year through the end of 2024. Pei comes to Johns Hopkins after teaching at Liberty University and Yale University. She received her doctorate in biochemistry and molecular genetics from the University of Alabama at Birmingham.
Andrew Peck is associate director for business development on the corporate partnerships team. Andrew will focus on sourcing and securing new industry-sponsored research to help expand the breadth and depth of Johns Hopkins partnerships. Andrew most recently was principal business development manager at Waters Corporation and before that started PxBiosciences, a peptide biomarker discovery and development company spun out from the University of Hanover in Germany. Andrew has a doctorate in cognitive neuroscience from the University of Connecticut.
Connor Larkin is a business development associate analyst on the corporate partnerships team. Connor will support efforts to grow Johns Hopkins-sponsored research partnerships by prospecting, generating leads, conducting outreach and assisting faculty pitch research ideas to industry. Connor previously held business development positions at several venture-backed startups, most notably Forus Health, where he led projects in 10 countries and helped Forus obtain FDA approval in 2016. Connor holds an M.B.A. from the University of Michigan Ross School of Business and a master's degree from the university's School of Environment and Sustainability through the dual master's degree program of the Erb Institute.