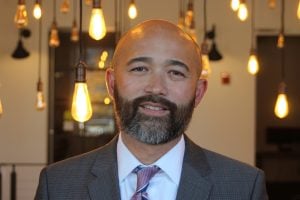 Patrick Ho is on the lookout for commercialization potential everywhere at Johns Hopkins. Even urine samples.
A researcher's paper about sequencing noncoding RNA in the urine of prostate patients recently caught the attention of Ho, Johns Hopkins Technology Ventures' first director of Life Science Technology Development. After some discussions with the researcher, Ho and his team are working with the researcher to create a liquid biopsy home collection kit that can detect malignant prostate cancer. They are determining what clinical studies need to be done, identifying potential business partners and exploring potential corporate partnerships and startup opportunities.
Commercialization "is a process," Ho said, "and the sooner you understand all the aspects of the process, the faster you can perhaps turn what is usually a marathon into a sprint."
Ho meets regularly with JHTV's technology transfer team to scout for technologies within the up to 500 disclosures filed annually by faculty; he also takes deep dives into faculty research activities to find "hidden gems." In concert with colleagues, Ho advocates for high-impact technologies, even well before they are ready for commercialization. His team works with researchers on multiple levels, from advising faculty on how to leverage laboratory resources for commercialization to helping them find funding.
"Everything is in play," he said. "It's very much an integrative, holistic approach. I believe we're setting the trend for what other universities' technology transfer offices will implement in the years to come."
Steve Kousouris, JHTV's executive director for technology transfer, described Ho's role as an "internal strategist" who can take in-depth looks at promising but early-stage technologies.
"Patrick and his team allow us to get involved with faculty projects beyond our traditional activities such as patenting, marketing and licensing," said Kousouris. "They support our IP and licensing staff by ensuring that our technologies have a nuanced commercialization plan and timeline that maximizes impact and value."
Ho has spent 25 years in biotech and commercialization, including genomic research and patent prosecution. He joined JHTV last year after 11 years in San Diego as vice president and chief business officer for the La Jolla Institute for Immunology, where he was responsible for intellectual property matters, business development and corporate partnerships.
While researchers often start the path to commercialization with a report of invention, Ho and his team — technology development associates Valerie Kinchen and Michael Wormald, both alums of JHTV's Commercialization Academy — begin at product concept stage and work backward to identify regulatory paths and proof-of-concept studies, among other considerations, that may influence how that invention is developed.
"We ask lots of questions about the ultimate destination and then build a roadmap to connect invention to product," he said.
Ho acknowledged much of his work is subjective, more art than science, but said promising technologies share certain characteristics. Strong intellectual property, for example, is important not just for obtaining patents but also being able to offer exclusivity to potential partners with broad and defensible claims. A clear research and regulatory path toward commercialization is critical, he added, as is a defined value proposition for investors and potential business partners and customers.
Even if a technology checked all the boxes for commercialization, Ho said it is important to rule out potential surprises.
"You want to avoid developing technology in a vacuum," he said. "You want constant feedback throughout the process, especially from prospective partners. The ideal situation is to work with vested collaborators as the technology unfolds."
Despite his goal of turning laboratory discoveries into marketed products that impact lives, Ho described himself as "intrapreneur" as much as "entrepreneur," happiest charting the course and helping faculty and colleagues within the university environment to make a difference in people's lives.
"The fun is in the journey and looking back to see where we came from together," Ho said.