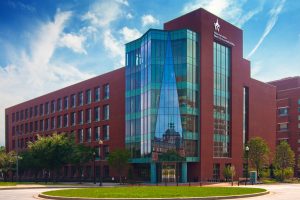 The Johns Hopkins University and Bayer AG have extended their strategic research alliance in ophthalmology through the end of 2024. The agreement will provide multimillion-dollar funding for researchers at the Johns Hopkins Wilmer Eye Institute to pursue treatments for a variety of eye diseases and ailments while benefitting from the expertise of Bayer scientists about potential drug candidates.
A drug candidate from one of the collaboration's programs has advanced to a phase II clinical trial and another program is licensed to a startup company. Researchers on both sides hope to translate the joint research into improved vision by moving innovative treatments from labs to patients' eyes.
The extension was signed last year but is being made public for the first time in conjunction with this week's virtual Association for Research in Vision and Ophthalmology annual meeting, during which some of the research from the collaboration will be shared in an oral presentation and four posters across the portfolio.
"I think the ultimate goal of any scientist is to have his or her work translate into something that improves lives and reduces suffering, such as from vision loss," says Peter J. McDonnell, M.D., Wilmer Eye Institute's director. "This collaboration between Wilmer and Bayer scientists has led to a stronger understanding of the retina in health and disease and is advancing the promise of better treatments for eye disease."
Among the areas researchers hope to address are diabetic retinopathy, dry eye disease and age-related macular degeneration. The collaboration extension means more opportunities to advance potential treatments toward patient clinical trials.
"This extension enables our clinicians and scientists to work hand-in-hand with Bayer researchers to advance existing work and potentially identify more promising drug candidates for ophthalmic indications," says Janice Lin, who manages the collaboration for Johns Hopkins. Lin is an assistant director of corporate partnerships at JHTV.
While Johns Hopkins and Bayer have a joint steering committee to govern the collaboration at the strategic level, like many corporate partnerships, a joint review committee advises project leads on the science, underscoring the close cooperation.
"Sponsored research is often a company asking to run a clinical trial on a drug, a contractual arrangement," says Laura Ensign, Ph.D., the Marcella E. Woll professor of ophthalmology at the Johns Hopkins University School of Medicine and a member of the joint review committee. "This is more of a true collaboration, with data being generated on both sides."
"Bayer recognizes from the research perspective that if they keep an open mind and listen to other perspectives, it's likely going to help all sides in the end," adds Neil M. Bressler, M.D., the James P. Gills professor of ophthalmology at the school of medicine, a member of the joint review committee and chair of the steering committee for the phase II clinical trial. Bressler worked previously with Bayer as a principal investigator on several projects sponsored through the school.
Bayer also is a sponsor of FastForward, JHTV's startup accelerator, and it supports a student fellow in the Commercialization Academy, JHTV's student internship program. The fellow is helping to identify more translational opportunities between Johns Hopkins and Bayer.
Ensign and Bressler say they hope the collaboration leads to translation of more basic science ideas into early clinical work, and that existing clinical work leads to clinical trials for a variety of drug candidates.
"This is the best of all worlds when you think about how industry and academia can work together," says Ensign. "It's really full investment on both sides and a collective effort. Everyone involved is putting their minds toward the science, and the good outcomes are being shared by everyone."