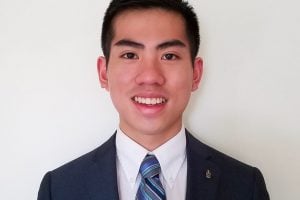 Travis Chan loves to build things, so perhaps it's appropriate that his latest creation may one day revolutionize how products are built. The Johns Hopkins University sophomore recently unveiled the VersaMaker, a prototyping machine that fabricates objects using a number of materials and various manufacturing techniques.
Not yet six months old, Chan's company has made a big splash this fall, winning Open Works' city-wide EnterpRISE Venture Competition and being named to the 2017-2018 cohort of the Ralph S. O'Connor Undergraduate Entrepreneurship Fund.
Below, Chan discusses the inspiration, aspirations and next steps for VersaMaker.

In five words, what does VersaMaker do?
Low-cost and versatile desktop manufacturing.

What was your inspiration?
I have always enjoyed making things – from model rocketry to hydroponic systems to electric longboards and 3-D printers. I got into building 3-D printers in middle school because I could not afford to purchase an off-the-shelf unit like a Makerbot. So far, I think I have built around 10 different 3-D printer designs.
However, I started to realize that even though 3-D printing has been pitched as the holy grail of desktop manufacturing, the process itself is pretty limiting. Most consumer 3-D printers can only make plastic objects, but I wanted to construct things in materials like aluminum, silicone and wood. I realized that there was a need for a versatile desktop machine that can fabricate objects out of different materials and use different manufacturing techniques – thus, the idea of the VersaMaker was born.
Provide a brief history of your company.
My company's history is brief (like three to four months). Over the past summer, I constructed several iterations of 3-D models of the first VersaMaker prototype. The deadline for applying to the Open Works EnterpRISE competition was during the first week of September. During the six-week span of the competition, I constructed the first prototype that I showed off at the final pitch round. Fortunately, after many sleepless nights, I got the prototype to function properly literally days before the final competition.
What makes VersaMaker's technology so important? How will it change your target market?
There are many market segments that may be interested in a low-cost, multi-functional machine like the VersaMaker. School districts, specifically teachers, want to show their students different techniques to make things because hands-on learning is one of the most effective types of education. However, school districts have low budgets and limited space in their classrooms, so they would want a low-cost, versatile, desktop machine like the VersaMaker. Furthermore, there are several grants that high schools can receive to afford machines/equipment because there are philanthropic organizations that want to increase students' exposure to STEM-related tools.
Another market segment is small makerspaces. Small makerspaces do not have enough funding to purchase multiple machines and they may not have enough space for that many machines. Therefore, the VersaMaker would alleviate that struggle by providing more functionality in less space and at a lower cost.
Small businesses and artists who sell on websites like Etsy may also be interested in the VersaMaker because the machine can increase the company's production speed as well as increase the variety of products that a business can sell due to its multiple functions. Also, the companies will be able to sell customized items like laser-engraved wallets, custom silicone shoe insoles, chocolate figurines, etc.
The list of market segments goes on and on (think: research laboratories, engineering firms, hobbyists, etc).
Through the Open Works EnterpRISE Venture Competition you won $10,000, membership and studio space. A week later, you were named to the 2017-2018 O'Connor Fund cohort, which provides up to $10,000, mentorship and other services from FastForward U. How will this help your progress?
I plan to use both awards to continue to prototype and reiterate the VersaMaker. I want it to be more user-friendly, aesthetically pleasing and easier to manufacture. I also will be applying for a utility patent for one of my future tool heads. Lastly, I am heavily considering launching a crowdfunding campaign, so I will be using some of the funds to send out beta units to reviewers and pay for Facebook ads.
The studio space at Open Works will be helpful for me because I do not have a car in Baltimore and it can be awkward bringing materials and prototypes into – and out of – Ubers/Lyfts. Now, I can leave my prototypes and materials at Open Works which is great because I was planning to work on it at that makerspace.
If you could give your past self one piece of advice for creating a startup, what would it be?
Just start one. You have nothing to lose.
What book are you currently reading?
I am currently struggling to maintain a work-life balance, so I have not had time to read as of late. However, over the summer, I really enjoyed reading "Smart People Should Build Things" by Andrew Yang, the founder of Venture for America.
What innovator do you look up to? Why?
This may sound cliché, but I adore Elon Musk. He is truly a serial entrepreneur who has founded/co-founded many successful companies like Zip2, X.com, SpaceX, Tesla, SolarCity, Hyperloop, OpenAI, Neuralink and The Boring Company.
He never backs down from adversity like when the BBC purposefully defamed the initial Tesla Roadster in its show, Top Gear. Or when city mayors outright banned or heavily regulated SolarCity's solar panels.
He is also never afraid to speak his mind even if he knows that what he says will cause his company's stock price to plummet.
After a long day, what is your go-to Baltimore restaurant?
R. House because I love that there is always a new option to try out and it's within walking distance.
What's your favorite non-work-related thing to do in Baltimore?
I love seeing animals at the Maryland Zoo, exploring Fells Point at night, and stuffing my face with KBBQ (Korean barbecue).
Learn more about student ventures and how JHTV supports them!