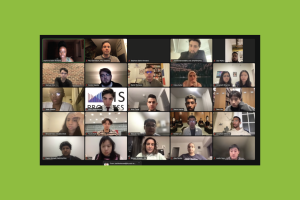 FastForward U's accelerator programming reports impressive growth, and it anticipates further expansion in coming semesters. After a record-setting application season, the spring 2023 accelerator teams have been admitted into FastForward U's student cohort ranks. 
Each semester, FastForward U assembles student cohorts from across all Johns Hopkins campuses to build and refine innovations. From undergraduate to post doctorate, all students are invited to apply to FastForward U's accelerator programs and to access funding, support and other resources needed to launch innovative products and entrepreneurial pursuits.  
Student teams participating in Spark this spring hail from the Carey Business School, Krieger School of Arts & Sciences (KSAS), Whiting School of Engineering (WSE), Peabody Institute and Bloomberg School of Public Health. 
Spark student teams from the Carey Business School are A Dot Media, Construction Highlighter, Double Click and Use AI.  
KSAS student-led teams are Fab Brick, Color of My Voice, Med Assistant AI, Laminomics, Novel Cancer Therapeutic, SIS Progress, Juyomin App, Insight Gym and Ligane.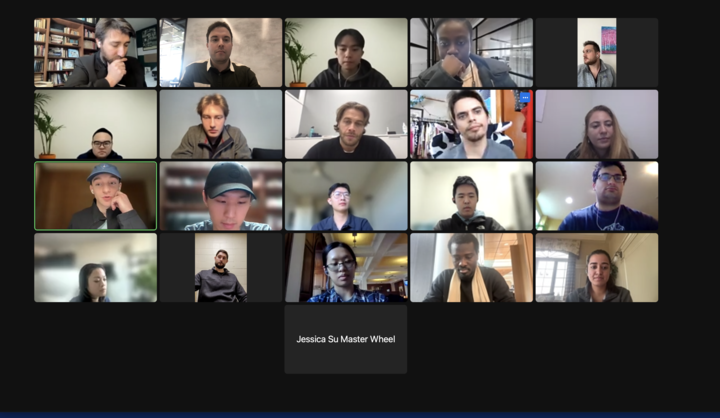 Whiting School of Engineering students lead the teams Dynamic Brace, Get Up 'n' Go, Greensource AI, Helping Hand, MiraHeart, SomnOSA, Automata, Edinn AI, Escape Goat, Evergreen (Smart Plant Pot), HopBox, Lymphalock, MedTheia, Understandable.Inc, AiR, DiscOva, FurFriends, Nimbus Instruments, Ovariable and iamme. 
The student teams Hold and Social Boot Network are from the Bloomberg School of Public Health. The student-led team Immurtal is from the Peabody Institute, and MYTIN is from both the Carey Business School and the Bloomberg School of Public Health. The team GlaucDetect is from KSAS and the public health school. 
"It's exciting to see how interest in Spark has dramatically increased over the last few semesters," says Sephora Saint-Armand, student program manager. "Students can clearly articulate their stage of product development and what kind of support they need from this program. It's becoming more and more competitive each semester." 
The growth in interest in the Fuel accelerator also indicates its successful approach in providing teams with frameworks, connections and guidance that foster rapid and significant progress, says Paul Davidson, M.S., assistant director of student ventures. 
"The cohort represents a diverse range of teams, so many perspectives and viewpoints provide helpful feedback, which is buoyed by support from FastForward U staff and strategic advisers," says Davidson. 
The spring 2023 Fuel cohort also represents various Johns Hopkins campuses and several industries. The nine teams are: 
MagGenix

(WSE) is developing a magnetogenetic cell therapy platform.




Release Therapeutics

(WSE) is a preclinical startup venture focused on developing drug delivery solutions to areas of unmet clinical need in otolaryngology surgery.



Aptabridge

(School of Medicine) is creating next generation immunotherapy molecules that leverage DNA nanoparticles to modulate the human immune system to fight cancer.



Authfind

(Carey) uses machine learning, artificial intelligence (AI) and blockchain to streamline insurance prior authorization workflows and reduce processing times.



JJ Innovative Materials

(WSE) is centered on carbon capture and storage technology with a focus on construction materials industry, producing a first product built with hempcrete (hempboard).



Maine Bee Technologies

(KSAS) is a biology inspired venture approved by the Food and Drug Administration that works to infuse culinary ingredients with nutraceuticals and plant nutrition.




The Impact Stylist

(Carey) is an AI-driven personal styling service curated with sustainably made clothing.



Master Wheel

(WSE) is a cross-platform dual pedal gaming controller for pediatric patients who need to rehabilitate their foot and/or ankle to regain strength and mobility.




ThermoBeat

(KSAS) harnesses the body's thermal energy to power medical devices and uses machine learning to predict cardiac disorders.

 
"All of our strategic advisers have startup and venture experience, and in collaboration with FastForward U, new mentorship connections are formed," says Davidson. "At the end of the semester, I know that participants will achieve great success. Beyond the accelerator, teams will have an expanded network of mentors and advisers through their peers and guests from weekly sessions, so I can't wait to see what these teams accomplish six months, a year or five years down the road." 
Each semester, the Spark and the Fuel accelerators offer skill-building workshops, in-kind resources, mentorship and funding in structured programs. Application numbers are projected to continue to grow in coming semesters, as increasing numbers of student entrepreneurs seek out tools and resources to make progress on their ventures. 
Learn more about FastForward U's student startup accelerators here.