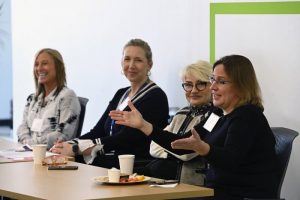 Of all the things that helped Barb Slusher on her path to becoming a leader in the field of drug discovery and an inventor with more than 70 patents to her name, the relationships she built with her peers, and particularly her female peers, were the most influential. By building relationships, she said, she was able to secure funding for her pharmaceutical ventures while still working in the industry, and the bonds she built with other women in pharma help ensure her voice is heard, even in a room full of men.
"If I look at the people who have invested money in the companies we've started, I've usually started a relationship with that person before. I've consulted for them, I've been to conferences with them, I've been on panels or boards with them. They get to know me and trust me, and that ultimately leads to them investing in my companies. It takes time," said Slusher, a Johns Hopkins alum who now directs the Johns Hopkins Drug Discovery Program. "I'm also used to being the only woman in the room, but when I'm with other women, we team up to make sure that each other's opinions are heard."
Slusher was one of three panelists to share insights about being a woman in innovation during an invitational breakfast event held Feb. 12 at FastForward U near the Johns Hopkins Homewood campus. Alongside stem cell researcher Sharon Gerecht and biomedical engineer Natalia Trayanova, Slusher spoke to 40 of the university's most prominent women in technology and entrepreneurship—faculty, staff, and students—who had gathered to network and share their experiences.
"I hope that 2020 is a year we acknowledge the lengths that female entrepreneurs go," said Christy Wyskiel, senior advisor to the president of Johns Hopkins University for innovation and entrepreneurship and executive director of Johns Hopkins Technology Ventures. "For Johns Hopkins women, in particular, I am committed to helping them find the sponsorship they need in the form of mentors, investors, board members, and believers in a more equal way."
Hosted by Johns Hopkins Technology Ventures, the event kicked off the AccelHERator event series, a collection of workshops and talks focused on supporting female inventors and entrepreneurs at Johns Hopkins. The series, funded by a grant from the Small Business Association, aims to address the barriers to success experienced by women in tech and business, and to support them and their work. Attendees of the launch event were largely those known by or already working with Tech Ventures, but organizers say they hope more members of the Johns Hopkins community will participate in the program by nominating women entrepreneurs and innovators to join the movement through an online form.
"The work of bringing research to the market is really difficult, in that it requires both cutting-edge science and a keen understanding of customers and how markets function," said Liz Burger, senior director of strategic initiatives at Tech Ventures. "We need all the talent we can get; we cannot afford to have women participate less. So today is a celebration of the vast potential of women at Johns Hopkins, and the rest of the events in the series are about equipping women with the tools to take action and move ideas forward."
Casey Overby Taylor, an assistant professor of medicine and an expert in biomedical informatics, attended the event to learn more about Tech Ventures and to network with other female entrepreneurs.
"I wanted to explore what it would take to build my own private, commercial business, so this is a good way to get exposed to this topic," Overby Taylor said.
Another attendee, Bailey Surtees, graduated from Johns Hopkins in 2017 and now heads a startup that operates out of FastForward U, the student-focused accelerator and makerspace where the breakfast event was held. She said she was interested in the event because she was looking for an opportunity to connect with other entrepreneurial women.
"The female professors that I had as a student at Hopkins made a big impact on my experience," Surtees said. "Seeing how they balanced being a professional woman at the top of their field and other goals I share with them, like being part of a family, was really cool and helped prepare me for what it's like to be a woman in business."
The next AccelHERator event will be a workshop about creating successful value propositions that help capture potential startup customers and clients. It takes place from 11 a.m. to 1 p.m. on Wednesday, April 1, at FastForward 1812 on the East Baltimore campus. Those interested in attending can register online. Additional events will be held in May and June.
Learn more about JHTV's Women in Innovation initiative.