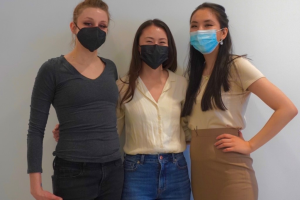 The following was written by Erica Avery, FastForward U's communications intern.
Two teams in FastForward U's Spring 2022 Fuel accelerator led by graduate female STEM and medical school students are aiming to bring innovation to female reproductive health products.
Ovubrush and NovvaCup took part in the nine-week accelerator, which is designed for later-stage startups to help them get to market and become investor-ready.
Ovubrush, founded by Center for Bioengineering Innovation and Design graduate student Janis Iourovitski, is a high-tech toothbrush that uses changing saliva patterns as a biomarker to monitor the menstrual cycle, especially to identify ovulation windows for conception. An internal sensor analyzes the electrical properties of a user's saliva to track changes in estrogen levels. The signal is processed and then displayed through a smartphone app.
Iourovitski was taking an engineering course on maternal health as an undergraduate student when she learned about the unmet needs in fertility through interviewing new mothers for class.
"We'd talk about [the patient's] pregnancy journey and broadly their path to motherhood and I was surprised to hear how many people brought up the conception process," she said. "It didn't make sense to me why knowing your body was so complicated."
Through customer discovery, Iourovitski learned that the fertility tracking devices and techniques women were using was disruptive, cumbersome or inaccurate.
"Tracking takes time and mental energy," Iourovitski said. "That's what brought us to looking to a way to combine fertility tracking with someone's daily routine."
The cohort interactions and supportive mentorship at FastFoward U have been extremely helpful in moving the project forward, Iourovitski said.
"It is actually possible to make your own product and commercialize it," she said. "There is a way to make this real. Being able to connect with Hopkins alums and people in the community with experience in different aspects of making a company… I've enjoyed meeting with them and hearing their feedback and enthusiasm."
Iourovitski believes Fuel's Demo Day event, where each team pitches to a panel of judges for awards, allows teams to "zoom out and appreciate the bigger endeavor beyond the small frustrations that come up every day."
"Just meeting other people working on fascinating and impactful projects, seeing people take research or products and making it into something that actually works and seeing people have an impact with the work that they're doing has been one of the most rewarding parts," she said.
Danielle Nicklas, a pathobiology Ph.D. student, came up with the idea for NovvaCup after meeting her cofounders in a medical entrepreneurship class. She had first tried using a menstrual cup after hearing about them from friends who studied abroad. Nicklas liked the idea of reusable and environmentally friendly period products but found menstrual cups on the market to be uncomfortable. So Nicklas, who previously worked at a medical testing device job, decided to create a better menstrual cup.
"All the menstrual cups are a static design, a rigid, single-state cup and the user is expected to be an origami master in folding medical grade silicone and inserting it," she said. "We are designing a cup that has different collapsible states so it's easy to insert and remove and contains the mess. It would be one of the first collapsible cups to strategically address the feasibility issues with current models."
There is a 11% discontinuation rate of existing menstrual cups, according to a 2019 study in The Lancet, due to mess and complicated use. The NovvaCup team is designing a reusable, convenient and sustainable product that eliminates reoccurring purchases of disposables.
"This is something that matches with our values because menstrual cups are more ecofriendly and so it would be something that would reduce a lot of waste as well as being more cost effective in the long-term," said co-founder Clarissa Ren, a medical student at The Johns Hopkins University School of Medicine.
The NovvaCup also views its work as a social enterprise mission.
"Something we try to convey through our social media and messaging is to educate about impact as well as make it an inclusive and welcoming environment," Ren said. "Just being able to talk about these topics sometimes seen as taboo makes it more normalized in society. It's a biological function. Menstruating individuals shouldn't have to feel shame."
Ren has explored clinical perspectives in gynecology and wants to integrate those lessons into NovvaCup's mission. The teams also aims to be inclusive of menstruating individuals who don't identify as women.
"A significant number of people still feel like their menstrual health education wasn't sufficient," Ren said.
NovvaCup previously received funding through a Thalheimer Graduate Student Award from FastForward U and won the audience choice award at Fuel's Demo Day.
"As a Ph.D. student in the lab all day," Nicklas said, "a lot of people aren't interested in business, so to have people to talk to about what kinds of problems you're trying to solve. [JHTV] has really turned the tables for us from scratching our heads wondering how to do this to being provided so many resources and opportunities to really polish and learn everything we want to do."