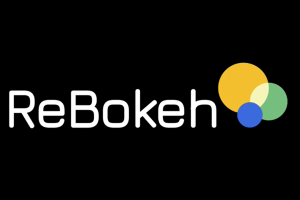 The following was written by Erica Avery, FastForward U's communications intern.
ReBokeh, a student startup developing an app to increase accessibility for the visually impaired, took the $20,000 top prize at FastForward U's Fuel accelerator Demo Day on April 14.
Nine student teams participated in this semester's Fuel accelerator program, where they had a curriculum that included customer acquisition, marketing development and entrepreneurial finance. The program culminated with Demo Day, where the teams virtually pitched their products to a panel of alumni judges as well as friends, family and other entrepreneurs.
ReBokeh is a smartphone-based assistive technology for people with moderate visual impairments. Users create video filters specific to their condition and needs to enhance their existing vision with the goal of promoting independence and dignity.
"It was truly an honor to win at Demo Day," said Rebecca Rosenberg, ReBokeh's founder and CEO. "It has been a pleasure getting to know the other companies and founders in the cohort and in even such a short time they have become so supportive! I'm certain each and every one of them will be successful in their own ventures."
Rosenberg, a graduate student in The Johns Hopkins Center for Bioengineering Innovation and Design (CBID), was inspired to create ReBokeh due to her moderate visual impairment caused by a form of albinism.
Devices such as closed-circuit televisions help people who are blind or nearly blind, she said in her pitch, but they do not help people like her in the middle of the blindness spectrum.
"We need more help than just glasses but the technologies [for the blind] are bulky, extremely expensive, and overall, just not designed for us," she said.
Rosenberg had assistive technologies growing up but felt the user interface was unintuitive and wondered why she couldn't use her smartphone. The ReBokeh app can counteract inaccessible designs, such as menus, and enable safe, discrete navigation by making signs clearer, for example. All of this allows users to engage in visual activities independently, she said.
ReBokeh "works kind of like a photo editing app for real life where a user can add customized image adjustments over top of their live camera feed," she said. "When they find a combination of image adjustments that works for them, they can save it as a preset to call upon later."
The team plans to use the Demo Day award to hire software development interns, travel to vision conferences to speak to potential users and optimize their key performance indicator (KPI) tracking, according to Rosenberg.
"We talk a whole lot about our app, which is really our focus right now, but there is so much more we envision ReBokeh being," Rosenberg said, concluding her pitch. "There's so much capability to be built out surrounding these presets, including our predictive algorithm, which is one of the first things we're working on. Also, we envision hardware as well as a community platform that allows these individuals to communicate with one another and talk about things that matter."
NovvaCup, which is creating a sustainable, no-mess menstrual cup, received the $5,000 crowd choice award during Demo Day, while Class Equity, an edtech platform that teaches K-12 students financial literacy and promotes positive social behaviors, won the $3,000 cohort prize, voted on by the startups. All members of the cohort received a $5,000 stipend.
"I can say without reservation that this was one of the most accomplished and supportive cohorts I've had the pleasure the work with," said Josh Ambrose, FastForward U's director of student ventures. "Each team worked extremely diligently this semester, buoyed by an incredible number of mentors and highly accomplished speakers. I'm proud of all their successes to date and look forward to their next steps. We continue to appreciate our judges, audience and cohort for the difficult task of choosing three teams to invest additional Demo Day prizes in and can't wait to see what our winners do next! Our financial sponsors make all of this possible, and we continue to be grateful for those that give back to support the next generation of Johns Hopkins entrepreneurs."
Demo Day was sponsored by Johns Hopkins Federal Credit Union and Yury Yakubchyk (KSAS '13), founder and CEO of Elemy.
To see all the teams that pitched at FastForward U's Fall 2021 Fuel Demo Day, visit the cohort site.