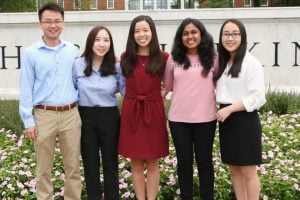 The following was written by Erica Avery, FastForward U's communications intern.
Two FastForward U student teams placed second and third last month in the Tulane Business Model Competition. Relavo, which is developing a device to reduce the risk of infection during home peritoneal dialysis, won second place and $30,000, while OxyGen, which is developing more efficient, portable oxygen, won $20,000 for third place. Both teams are part of FastForward U's Fuel Accelerator cohort.
Out of hundreds of applicants, six semifinalist teams were selected to pitch to the judges via Zoom due to the coronavirus pandemic.
"I appreciate how quickly the organizers were to adapt the competition to an online format," said Tejasvi Desai, Relavo's co-founder. "It was great to listen to all of the other talented competitors and learn from their pitches."
Tulane was "awesome in making everything possible [and] to provide a platform to connect to judges with everything that's going on," added Jessica Dakkak, OxyGen's co-founder. "It was a great way to support student ventures since many grants might be on hold right now."
Relavo's PeritoneX aims to help the almost 10% of Americans living with kidney failure who use peritoneal dialysis, which cleans the blood nightly inside the body with a solution administered via a catheter through the lining of the abdomen. Relavo's device is designed to re-sterilize the dialysis system, removing any contamination of microbes that slipped in accidentally before the reagents enter the body.
Co-founder Sarah Lee says the prize money will help Relavo continue its in-house prototyping, which has been delayed by the coronavirus pandemic.
"It's also always a great opportunity to hear other student start-ups pitch about such a variety of things," Lee said of the Tulane competition. "At Hopkins, we hear about a lot of start-ups in the med-tech space, so it's interesting to learn how to evaluate other types of businesses."
OxyGen's portable oxygen concentrators combine high-flow ambient air and pulses of concentrated oxygen based on blood oxygenation to provide treatment that is more effective, reduce oxygen waste and increase oxygen longevity outside the home, allowing patients to live a more active lifestyle.
"We have two ongoing clinical research studies at Johns Hopkins Hospital on hold for now, but there's a lot of talk about ventilators and oxygen-related innovation, so people are more aware overall," Dakkak said.
OxyGen has applied to between five and 10 competitions for the past two years, and poured a significant amount of time and energy into funding. The team has raised about $350,000 so far from sources such as the Johns Hopkins Discovery Award grant (given to teams with members from multiple schools or affiliates of Hopkins), FastForward U's Thalheimer Grad student award (also won by Relavo), the Abel Foundation and health-related research foundations.
"A lot of the students bank on applying to these competitions because it's no-strings-attached money if you win, which was crucial for our team," Dakkak said. "Just being in the [Fuel] accelerator, we were exposed to a lot of funding opportunities. We applied to a lot more and practiced a lot more and it positioned us well for success in the final round and helped us refine our pitch."
The Relavo team also credits the Fuel accelerator in propelling their success.
"We learned a lot from the weekly guest speakers at the accelerator about fundraising, framing your business case, and selling yourself," Lee said. "This information and the connections that we made have been extremely helpful in Relavo's overall growth into a startup company."
Dakkak and Jonathan Smith, another co-founder of OxyGen, are master's students in The Johns Hopkins Center for Bioengineering, Innovation and Design (CBID), which they also credit for helping their business grow.
"Our education from CBID and our understanding of how to construct a problem from the ground up from a realistic way has also been critical," said Smith. "Without that background in education we'd have a hard time articulating the problem in a meaningful way."