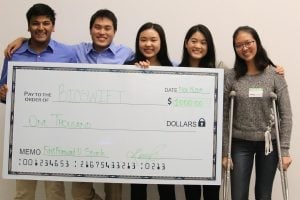 The following was written by Erica Avery, FastForward U's communications intern.
Breathing and drinking water are basic needs people don't think twice about in our everyday lives but they were behind the winning pitches of the inaugural FastForward U Spark and Fuel Demo Days.
The demo days were the culmination of FastForward's inaugural accelerator program, where student teams attended workshops on various aspects of venture creation taught by members of the local entrepreneurial ecosystem. The teams also were assigned mentors and space at FastForward U's Homewood location.
"I told the teams at the beginning that they will get out what they put in with opportunities like this, and they definitely put in a lot of hard work over this nine-week program," said Kevin Carter, student program manager for FastForward U. "The results were apparent during Demo Day. I can't wait to see where each of them goes from here."
The accelerator program has two tracks: Spark is for early-stage companies looking to validate their idea and focuses on the basics of startups; Fuel is for teams seeking to grow and scale their ventures.
Spark teams that successfully complete the program receive $1,000 toward incorporating their venture and taking next steps. Fuel teams receive $1,000 for entering the accelerator and can get up to $4,000 on exit, all of it nondilutive funding.
"What's exciting to witness about this is how community takes shape amongst these student entrepreneurs from different schools, backgrounds, and experiences all working toward the goal of building something they want to see impact the world," said Kerrie Carden, direct of student ventures for FastForward U. "Their ability to help one another and strengthen the ecosystem is invaluable."
BioSwift received an additional $1,000 prize on Nov. 18 for winning the Spark Demo Day. The team wants to market FlowMate, an attachable device to dry-powder inhalers allowing pediatric asthma patients to receive full doses of medication. BioSwift also will be automatically enrolled in the Fuel accelerator program.
"We're really excited that we actually have the means to make an impact on the community that has a serious problem," said Varun Kedia (WSE '20), a BioSwift team member. "We're really thankful the program was able to make this happen and we're excited to see what the future holds."
Maxwell Xu (WSE '20), BioSwift's team lead, said taking part in the Spark program was inspiring.
"There's a lot of great teams and a lot of competition," Xu said.  "I'm glad we got to have this experience."
FFU Spark Demo Day also featured a crowd choice award, with Flave winning a $250 prize based on audience votes. The company has developed an app designed to reward both customers and participating local restaurants.
The following day, Aquatas beat out four other late-stage student ventures to claim the $10,000 Fuel Demo Day prize. Aquatas is developing a compact, manual-pump water filter pump driven that can remove both pathogens and heavy metals. The team hopes to distribute its device to countries and regions facing shortages of clean water.
Paarth Sharma (WSE '20), Aquatas' team lead, noted the company was founded by freshmen in their dorm rooms.
"I'm really proud of our team and the amount of work they put in and how we're actually getting this out there," Sharma said. "The money will go toward our pilot when we're trying to evaluate the impact our device can have for our users."
Co-founder Anish Mohka said the Fuel program has been instrumental to the company's growth.
"We've been able to make a lot of progress and I think that we were able to show that through our pitch," Mohka said. "We're really happy the judges saw that as well."
The other Fuel teams—CortiTech, Braegen, Ithemba, and First Friday's Group— pitched ventures that ranged from medical tools and devices to community event-management for underprivileged. The audience hearing the pitches included startup CEOs and investors and members of Johns Hopkins' entrepreneurial community
Margaret Roth, co-founder of Yet Analytics and judge for the Fuel demo day, said her job was challenging because of the variety of teams at different stages of development. The final decision, however, came back to how teams were planning on making an impact.
"One of the big things that's really important, no matter what stage you're at in a company, is (whether) you know what your customers really need," Roth said. "Bringing your product to a pitch that's ready to begin live testing in Mexico— that was incredibly impressive that (Aquatas) demo-ed it. That says you not only know who your customers are, but you've built those relationships to begin the trial process and get direct feedback."
Applications for the spring accelerator program will open in January.