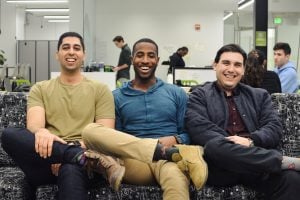 The following was written by Erica Avery, FastForward U's communications intern.
"Computer technology" and "food" normally don't go together but the pairing is a no-brainer for a new student startup.
Flave is an app that helps users learn more about their local restaurant scene and rewards them for expanding their palettes. Users earn points for eating at any restaurant but can redeem awards only at participating establishments.
Flave was founded in August when its founders applied for and were accepted into FastForward U's Spark accelerator program, which helps students' idea-stage ventures go through the customer discovery process. Teams receive $1,000 in funding upon completing the program.
Flave now has 10 team members, and the company is looking to launch by January a beta version of the program in Baltimore for testing, followed by a public release.
"A big piece of the ideation stage is getting constructive feedback from people because you have to be able to pivot in so many directions," says Derek Battle, one of the company's founders. "We've really been able to streamline our product based on advice we've gotten from people in the industry that FFU has connected us to."
The idea for Flave began when Jal Irani (MS '17) was asked by a friend who owns a food truck to develop an app for the business that allowed customers to track the truck and scan coupon codes. Irani created the app and then reached out to bars and restaurants offering the service.
"Over time, I started to see the pattern of restaurants wanting more visibility and loyalty programs and not knowing how to implement it themselves," he says.
Irani and Battle met in Federal Hill over wings during a Ravens game and clicked over their Hopkins connections—Battle is a second-year student at Johns Hopkins Carey School of Business.
James Soldinger, the third founder, went to high school and college with Irani and the two often discussed their projects with each other. Soldinger is a user-experience researcher and product designer who says he loved the idea for Flave.
Flave wants to provide users with local restaurant options and plans to offer a diverse redemption catalog. The app rewards customers for dining-in instead of ordering takeout, unlike like other apps, which can lead to fees for the restaurant and the user.
"Restaurants can view us as a marketing platform, which they're already allocating money toward anyway," Battle said. It's a win-win for [the restaurants] and the users."
While Irani says Flave is "restaurant agnostic," the company plans to focus on locally owned establishments.
"Many of these amazing local places—places that serve fantastic food and a great experience—struggle to succeed," says Soldinger. "A lot of them fail because they just don't have the budgets necessary to show up in search results, to advertise and compete with the companies that have an immense amount of money backing them. Flave makes it an even playing field and shines a light on all of the establishments that deserve the patronage of consumers in their community."
Battle has been around plenty of entrepreneurs but says his experience in the Spark accelerator has been invaluable.
"You have to really hone in on the problem and that is our biggest takeaway right now," Battle said. "We didn't have a pitch because we didn't truly identify the problem. We just thought we had a good idea. But now we think we have a pitch. Without FFU, who knows."
At the end of the Spark accelerator next month, the Flave team will have to pitch their app alongside the other nine teams, with the chance of earning a $1,000 grand prize. According to Irani, the capital from the Spark accelerator will be instrumental to Flave's launch in Baltimore.
"Since we do not have much money to put into the business ourselves, this will give us the flexibility to handle hosting our database, as well as assist in our marketing efforts," he said.
In addition to the Spark program, FastForward U offers a Fuel program for student-led startups that are market or investor ready. The next accelerator program will kick off in January.