About: Combats food insecurity, expands fresh food education and builds community partnerships to provide consistent access to healthy, fresh produce across Baltimore neighborhoods.
Leaders: Arshdeep Singh (Left), Founder and Board Member; Ahkil Atluri; William Blair; Lavanya Gupta (Middle), Community Outreach Director; Anthony Han; Nathan Ji; Amy Liu, Project Lead, and Grace Wang (Right), Marketing Director
Connect: Website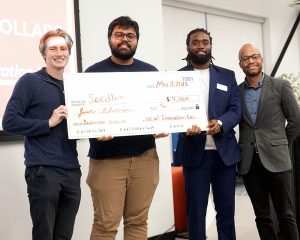 Audience Choice Award Winner ($4,000):
From Arshdeep Singh: The Social Innovation Lab introduced me to many amazing nonprofits that allowed me to think of creative ways to push my business forward. Through the expert guidance of the different guest speakers that presented this cohort, I was able to further refine our business model and properly scale our impact. Receiving the $4,000 Audience Choice Award was an amazing feeling because it validated that over 100 people resonated with Seedling's mission the same way I did.