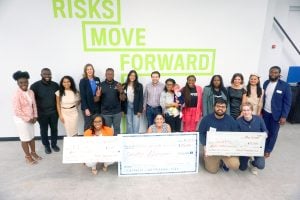 On May 18, The Johns Hopkins University's Social Innovation Lab (SIL) spring 2023 cohort held a showcase in front of 100 people in attendance and more than 70 online. The enthusiastic audience was treated to presentations of socially conscious and innovative startups — from one that tackles food inequality, to one that helps students in college, away from home for the first time manage their health care. Another addresses the growing and severe inequalities faced by those who have difficulties writing.
The Social Innovation Lab, run by director Anthony Watters, at Johns Hopkins University's FastForward U, accelerates emerging ventures and leaders who hope to change Baltimore and the world. SIL provides funding, advice and mentorship, training, technical assistance, office space and network access to help innovative mission-driven companies and disruptive technologies develop into thriving, sustainable ventures that will have a measurable impact.
Ventures may be nonprofit or for profit and not yet incorporated, and they should be able to demonstrate accomplishments, traction or impact.
The majority of the cohort this spring is made up of female founders and founders of color. Three in this year's cohort are from The Johns Hopkins University and seven are from the Greater Baltimore community.
This year's groundbreaking teams are:
The winner of this year's $20,000 SIL Cohort Award is:
Baltimore City College Writing Center
The Audience Choice Award winners ($4,000 each) are:
R.I.S.E. Arts Center of Baltimore
Seedling Hydroponics
From the winners: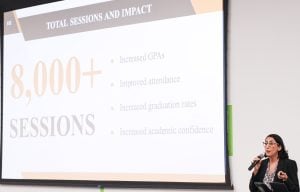 Lena Tashjian at the Baltimore City College Writing Center says: "I am incredibly grateful for the opportunity to have been able to participate in SIL, and I am especially grateful to have been able to learn and grow alongside this year's cohort of amazing innovators. While the field of education (and urban education, in particular) is deeply rooted in social impact work, the accelerator and entrepreneurial space were brand new territories for me. Participating in SIL felt like learning a new language. Rather than allowing me to feel unmoored or to sit in discomfort, my cohort generously offered encouragement, and unwavering community support. They allowed me to feel seen and heard in a new and unfamiliar space. I am forever indebted to them, the SIL team, and to Anthony Watters and Josh Ambrose for being willing to have all the conversations with me, even the difficult ones, and for pushing me to bridge the gap between my short-term and long-term goals. Because of this experience, we will be able to grow and expand in ways we had previously only been able to imagine and dream of. And that is a lasting gift."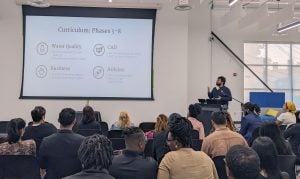 Arshdeep Singh, founder of Seedling Hydroponics, says: "The Social Innovation Lab introduced me to many amazing nonprofits that allowed me to think of creative ways to push my business forward. Through the expert guidance of the different guest speakers that presented this cohort, I was able to further refine our business model and properly scale our impact. Receiving the $4,000 Audience Choice Award was an amazing feeling because it validated that over 100 people resonated with Seedling's mission the same way I did."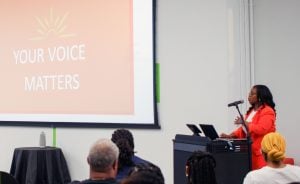 Kammeran Giggers, executive director and founder of the RISE Arts Center of Baltimore, tells us: "My time spent with the Social Innovation Lab has been one to remember. I was able not only to connect and partner with other amazing entrepreneurs, but I was also given the opportunity to step outside of the organization in order to build a solid business foundation. With the guidance of our director, Anthony Watters, and student program manager, Sephora Saint-Armand, I was able to fully develop a business plan and pitch deck that will continue to support us as we continue to grow and expand our impact. This has been an amazing experience and I look forward to staying connected!"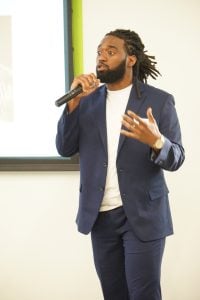 After the showcase, Watters said: "I was honored to be a part of this cohort's journey as they matriculated through the 2023 Social Innovation Lab accelerator. To be able to see the culmination of all the hard work these social enterprises have put in over the last six months come to fruition was special. We are truly inspired by the work of all 10 of our Social Innovation Lab teams, who are doing transformational work to have a real impact on Baltimore communities. I believe that social enterprises are the catalysts to solving Baltimore's most challenging problems, because they create a sustainable and lasting effect while also spurring economic growth. It is important that we continue to fund, support and collaborate with Baltimore based social enterprises so that they create the change we all want to see!"