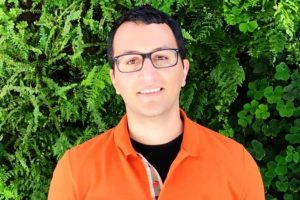 Tamer Morsy is founder and CEO of Spotlight News, which earlier this year received a $20,000 grant from the Bisciotti Foundation Prize for Student Entrepreneurship as part of FastForward U's Innovation and Entrepreneurship Challenge. Morsy earned a master's degree in data science from the Johns Hopkins Whiting School of Engineering.
In five words or less, describe Spotlight News.
Netflix for News.
What are your news habits? Favorite publications?
As you can imagine, I primarily consume news digitally, with the exception of Architectural Digest, The New England Journal of Medicine and Forbes, which I read in print. Those national publications plus the JHU-Newsletter, Baltimore Sun, and my hometown newspaper, the Times Leader (in Wilkes-Barre, Pennyslvania) are among my daily reads.
Where did the idea come from for Spotlight?
The idea for Spotlight came from my own frustration in trying to get quality news from social platforms. I also knew in implementing any solution I would have to develop a sustainable revenue model for local publications, which in turn would revitalize local communities through trusted, high-quality content.
How many publications are you working with?
We are on our way to having over 300 publications on the Spotlight platform, with 100 of those being college newspapers. In many areas, college papers serve as the only source of local news.
How are you working with The Johns Hopkins University?
We've partnered with JHU to provide our subscription service free of charge to all students, staff and faculty. Just sign up with your .edu email address and you're ready to start reading.
What makes Spotlight News different from its competitors?
Our emphasis on college and local publications, the ability to fully customize your news feed and to create custom interests and topics are all key differentiators of Spotlight. We believe that you should be able to curate the news you see, that it should be as individual as you are.
How has FastForward U helped Spotlight grow?
FastForward U has been integral to helping Spotlight grow. I've gotten great advice, recommendations and introductions through the program.
What's been the biggest surprise in starting a company?
How willing C-level executives in various industries are to take your call. I've found that they remember how hard it was starting out and are always willing to listen and share their expertise.
What's been the biggest challenge?
Fundraising during the pandemic, without a doubt. COVID-19 has made investors less risk-averse and turned what has always been a difficult task, into a nearly impossible one.
What's one piece of advice you would give a student who is thinking about forming a startup?
When building your team make sure you choose wisely. Your relationship with your cofounders is a marriage of sorts and you want to surround yourself with the best.
Where do you see Spotlight in five years?
I see Spotlight fueling the rebirth of local news and providing communities across the world with access to high-quality, trusted, local sources of news and information and reducing reliance on social platforms for news.