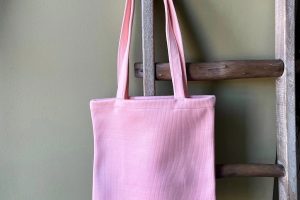 A collaboration between two Johns Hopkins University student startups to make tote bags from recycled plastics has its origin in that most modern of ways: mutual Instagram admiration.
Shanthi Ramakrishna is a junior at the Johns Hopkins Krieger School of Arts and Sciences and the founder of Taara Projects, a member of the 2020–21 Social Innovation Lab cohort that provides employment and economic opportunity to artisans at risk for poverty. She was "fangirling" last year over social media posts by Lauren Choi, founder of The New Norm, a 2020 recipient of FastForward U's Bisciotti Foundation Prize for Student Entrepreneurship that makes fabric out of recycled plastics, including Solo cups.
"I'd wanted to get in touch with her for a while because I had heard her name so many times," says Ramakrishna, a political science major, adding that the two were in the same sorority.
But it was Choi, a 2020 graduate of the Johns Hopkins Whiting School of Engineering, who reached out over Instagram.
"We're both in the sustainable fashion space and social impact space," says Choi. "And I thought it would be good for us to just know each other."
"She said, 'I would love to meet you and hear your story. Can we chat?'" recalls Ramakrishna. "And I was like, 'Oh my God, yes, of course.'"
The two met in late August and agreed a collaboration would make sense. Ramakrishna mentioned Taara Projects was considering a tote bag as its next product, an accessory that would be quick to manufacture and very practical for customers. Choi liked that the simplicity of the project would give her a chance to experiment as she attempted to scale up The New Norm's production.
"It was very serendipitous," says Ramakrishna.
Less than three months after their first conversation, the Ramakrishna-designed Taara Totes, made from The New Norm's Almarae fabric, were available for pre-order. Proceeds from sales go toward funding Taara Project's spring 2022 collection with a partner based in India.
The bags were produced by Baltimore-based Belvidere Terrace Atelier, fulfilling Ramakrishna's goals of having another supply chain in the United States and giving back to the Baltimore business community.
For Choi, the collaboration "validated her supply chain," from recycling the plastic to getting the fabric into a customer's hands.
"All of those steps require so many different moving parts and we proved to ourselves that we could do it," she says.
More than 70 bags were sold in the preorder phase, and Ramakrishna and Choi hope to eventually have more than 100 in stock. They have not ruled out a future collaboration even as they focus on their startups' next steps.
The New Norm, which began by collecting Solo cups on the Johns Hopkins campus, has joined the Halcyon Incubator in Washington, D.C., a program for social entrepreneurship. Choi will receive free residency and workspace as well as mentorship during the 18-month program.
"We are definitely at the point where this could scale," Choi says of The New Norm. "And I want to do that strategically, with the right advice and guidance. Having that kind of network and structure would be really beneficial."
Taara Projects is focusing on the launch of its spring line with its partner in India and potentially putting its products in Baltimore-area stores. Ramakrishna, who is on track to pursue her graduate studies abroad in the fall, has been thinking about the future of the startup, with some of her team graduating and others remaining in school.
"I do know for certain that the lessons I've learned and the type of work we're doing through Taara Projects, that's the type of work I want to be doing in the future," she says. "The spirit and the character of Taara will live on, if not by continuing to work on it full time, then just by working on other similar projects or ventures."
Madison Marks, director of the Social Innovation Lab, called the collaboration between Taara Projects and The New Norm one of her favorites because of the attention they are bringing to sustainability in Baltimore.
"From sourcing the products to the small-batch production taking place right here in a city with a strong history of garment manufacturing, this is an example of how shared visions and ingenuity can result in impact," she says. "We want to see more of these collaborations take place both at Johns Hopkins and in the wider Baltimore entrepreneurial ecosystem. Even if students are only here for a short time, they can make a difference and bring their creativity to the forefront to raise awareness of both problems and solutions in Baltimore."