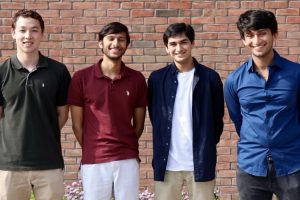 Two teams of young entrepreneurs — one with a new way to connect faculty researchers with prospective student assistants, the other turning Solo cups into an eco-friendly fashion statement — won the 2020 Bisciotti Foundation Prize for Student Entrepreneurship.
ForagerOne was awarded the first-place prize of $30,000 in nondilutive funding and The New Norm received the $20,000 second-place prize earlier this month. The Bisciotti Student Prize is the biggest of all FastForward U translational funding opportunities.
"I'm thrilled that FastForward U has the opportunity to support both ForagerOne and The New Norm through this year's Bisciotti Student Prize," says Kevin Carter, FastForward U's student venture coordinator. "Both of these teams are stellar examples of JHU student entrepreneurship, but really, their entrepreneurial journeys are just getting started. I can't wait to see what the future holds for them."
FastForward U received 30 applications for the Bisciotti Student Prize, which aims to help student startups grow their businesses as they graduate from FastForward U student entrepreneurship programs. All startups were required to have a founder or co-founder who is a current student or recent graduate of The Johns Hopkins University, and one founder or co-founder committed full-time to growing the company after graduation.
Applicants were also asked to demonstrate plans to grow and thrive in Baltimore, helping to meet a goal of both the Bisciotti Student Prize and Johns Hopkins Technology Ventures.
Ten finalists were chosen from the initial pool of applicants by a review committee that included guest judge Katherine Wu of Notation Capital, a 2013 graduate of the Krieger School of Arts & Sciences (KSAS).
Applications for the 2020-21 Bisciotti Student Prize will open in March.
The team: Yash Jain (KSAS '18), Ansh Bhammar (KSAS '18), Nitin Kumar (Whiting School of Engineering '18) and Michael Ashmead (WSE '18)
The pitch: A more efficient way to connect students and faculty at academic institutions for research collaboration.
Boosting academic research is a top goal of colleges and universities across the country. But the decentralized nature of higher education institutions means that developing new partnerships for collaboration is difficult, especially for interdisciplinary projects. ForagerOne's technology pulls publicly available information about faculty members to create profiles that are easily searchable by students and other faculty. Faculty, in turn, have a centralized place housing all applications from which they can recruit students. They can also connect with other faculty to initiate new projects. All of the data on the platform can be analyzed by administrators to improve the research ecosystem.
ForagerOne has more than 2,000 students and faculty using its platform at Johns Hopkins, and six colleges and universities nationwide are also using the technology. The company went through the I-Corps program at Johns Hopkins Technology Ventures and previously received translational funding through the Ralph S. O'Connor Undergraduate Entrepreneurship Fund.
"The Bisciotti Student Prize not only gives us the flexibility to experiment and innovate, but also scale strategies we have already found to be effective to rapidly reach academic institutions around the country," says Yash Jain, ForagerOne's co-CEO. "We're incredibly grateful to Johns Hopkins and the Bisciotti Foundation for their support."
The team: Lauren Choi (WSE '20), Collin Schmidt (WSE '22), Jasmine Blust (WSE '21), Eliza Zimmerman (KSAS '23), Ian Hernandez (WSE '20), Lydia Wang (WSE '21) Danielle Bejar (WSE '22), Abby Weyer (WSE '21), Julian Garcia (WSAS '21), Charlotte Quinn (WSE '21) and Tina De Jong (WSE '23)
The pitch: Turning Solo cups into fabric to produce sustainably made textiles.
The fashion industry emits more carbon than international flights and maritime shipping combined. As the industry becomes more environmentally conscious, sustainably made textiles are still rare. The New Norm built a machine that annually can turn 60,000 Solo cups into 30,000 yards of fabric woven alongside cotton, reclaimed cotton or bamboo. (One yard of fabric is needed to make a shirt; two yards of fabric can make a dress.) The company plans to operate as a B2B wholesale fabric company, first targeting higher-end womenswear brands.
The New Norm collected more than 4,500 Solo cups from student organizations at The Johns Hopkins University to recycle. The nationwide supply is vast — Americans use 7.5 billion of the plastic cups each year. The startup, which participated in FastForward U's spring Fuel accelerator program, is pursuing a patent and trademark for its signature fabric composition.
"This grant is honestly a dream come true," says founder Lauren Choi. "As a senior graduating next month, I knew I wanted to pursue this venture full time but didn't know if it would be feasible. I'm excited to build upon the momentum we've gained and start producing our recycled Solo cup fabric on a larger scale. I'm extremely grateful."