The following was written by Joseph Choy, FastForward U's communications intern.
The FastForward U Summer Incubator program, now in its second year, offers student founders a six-week sprint to build their ventures, attend workshops on fundamental entrepreneurship skills, form connections with alumni and mentors, and establish a foundation in Baltimore's ecosystem. Founders live together, and work in the FastForward U co-working space. The nearly 30 participants — both undergraduate and graduate — represent five Johns Hopkins schools.
Capnolite: Maria Thomas (WSE)
Uses hardware and software advancements to develop a novel capnograph (a device which the monitors the concentration or partial pressure of carbon dioxide (CO. 2) in the respiratory gases), that addresses health care challenges in low and middle income countries (LMICs) This summer, they are aiming to continue software development and integration for their first prototype.
CellMind: Alfred Landik (CBS)
Merges AI and stem cell therapies by utilizing image analysis to identify and eliminate malignant and senescent cells. This summer, they are building a minimum viable product (MVP) and performing market validation studies.
CurveAssure: Antony Fuleihan and Evan Haas (WSE)
Optimizes spinal assessment and surgical selection with dynamic posture analysis to personalize patient pathways and improve clinical effectiveness. Their major milestone for this summer is an on-patient study at The Johns Hopkins Hospital.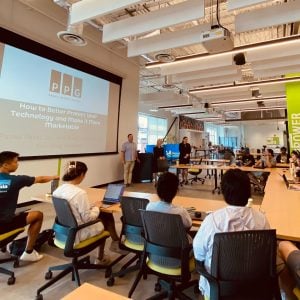 CoNET: William Diaz and Terry Qu (WSE)
A productivity-first venture aimed at lowering barriers and increasing efficiency in social networking and network management (formerly High Five). They aim to develop their business plan and build a working MVP this summer.
eez-EMS: Eric Jooyoung Ryu (WSE)
A one-stop mobile application for providers in emergency medical services. Ryu's main goal this summer is to develop a mobile app prototype and conduct market research and user interviews with health care workers.
EscapeGoat: Cameron Marcus (KSAS) 
A platform that allows travelers to easily share their adventures with an online community. The goal for this summer is to continue building the site and social media presence, and develop a strong plan for their team's workflow going forward.
Higher Ground: Stone Meng and Taliyah Huang (WSE)
Provides a more affordable daily coffee option for students, guaranteeing 24/7 access in convenient locations all over campus with coffee vending machines. This summer, their goals are to experience the process of launching a startup, perform validation, secure funding and prepare for a pilot.
IMMURTAL: Deer Ma and Dayuan Tan (Peabody)
Aims to democratize the future music industry by offering artists a fair revenue sharing model, content control and the ability to avoid censorship or restriction. For listeners, IMMURTAL will provide a more personalized experience, enabling them to discover new music and connect with artists directly. This summer, they are inviting their first cohort of musicians and empowering them with decentralized storing and publishing.
Laminomics: Alex Stennett (WSE) and Kaizen Nathani (KSAS)
A genetic testing and analysis platform that connects individual data with key stakeholders into one space. Over the summer, the duo hopes to conduct customer validation interviews, identify partners through the Johns Hopkins network and build connections with fellow FFU incubator cohort members.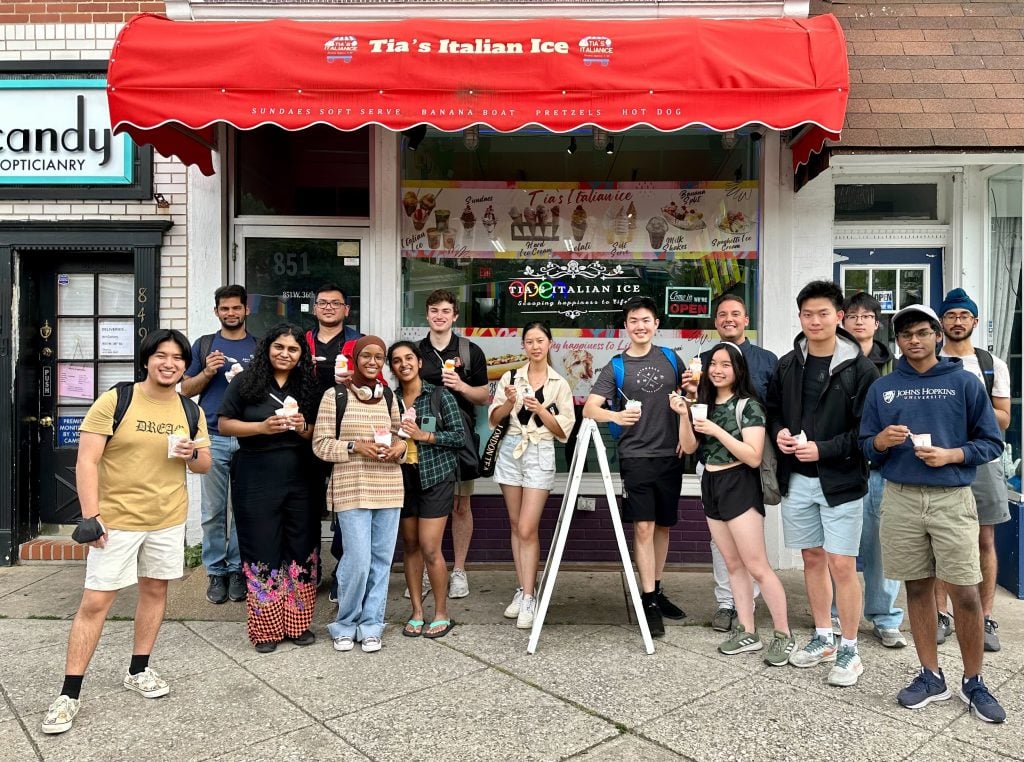 Maruti: Sagar Patel (WSE)
Aims to increase efficiency for mission critical teams by creating a robust knowledge base. It will serve as a single source for all documentation, easy-to-find specific topics via search, and encryption for privacy, and will overall be the best assistant that one might need while working. During the summer incubator, their goal is to finish MVP development, reach the market for testing and achieve a product market fit.
The Social Boot: Ugonna Njoku (BSPH)
A collective of cultural workers who have been able to produce creations and experiences, such as films and art exhibitions. By the end of this summer, they hope to develop a digital storytelling platform that integrates artistic expression with culturally sensitive digital wellness and mobile health modalities to effectively support mental health outcomes.
SomnOSA: Anders Sideris, Mitch Turley, Phoebe Dijour, and Shri Prabha Shivram (WSE)
A novel neurostimulation oral appliance for a highly prevalent, untreated form of obstructive sleep apnea. This summer, the team's focus is to make strides in clinical studies to validate device efficacy, build out their IP portfolio and secure nondilutive funding.
UltraSeal: Bikram Bains and Sampath Rapuri (WSE)
Creates affordable, safe and precise cancer care solutions in low- and middle-income countries. This summer, they aim to get an in-depth look at customer discovery and perform product validation.
Unix: Renee Wu and Tory Hu (KSAS)
A platform for digital nomads to develop their personal skills, career direction and social networking (formerly Juyouming). The duo seeks to create a community of nomads around the world through this customizable platform.
Visitar: Hanusha Durisety, Jasanya Oluwakayode, Niles Pierson, Sahnya Abdulla, and Sara Chopra (WSE)
A one-stop shopping platform for all travel needs for medium-term (one+ months) travelers (formerly Dwell). The team's goal for the summer is a tech prototype and pilot market validation.
Stay tuned to hear more about the latest news from the incubator by following FastForward U on Facebook, Twitter and Instagram. For founders interested in participating in FastForward U's academic year incubators, Spark, Fuel and the Social Innovation Lab, applications will open later in the summer.
Please direct requests for information or questions to [email protected]