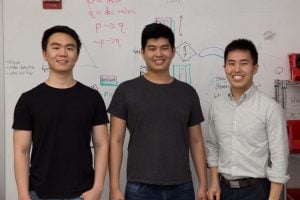 If money is the ultimate motivator, why not use it to encourage people to be proactive about their health and contribute to biomedical research?
That's the idea behind Atana, a startup led by co-founders and Johns Hopkins University seniors CEO David Shi, an economics major, and CTO Kevin Joo, a biomedical engineering and computer science major.
The company has developed a secure and scalable distributed ledger infrastructure to boost scientific collaboration. It permanently records transaction details and distributes them across sources to prevent malicious parties from acquiring protected information.
The team's original idea focused on the creation of a new cryptocurrency used to pay patients for their health data, but it has since developed into something with the potential to be so much more, explained Joo.
Using the blockchain technology behind cryptocurrencies to create a health passport, patients will be able to securely own and ultimately sell their health data to researchers, decreasing the costs and time associated with collecting information for studies and allowing for diversity in research populations, Joo says.
"We wanted to use this technology as a way to advance the concept of data ownership, patient consent and privacy in health care and biomedical research," Joo says.
Securing the data is critical to the success of their technology, says Joo. Researchers can upload credentials and documents through a distributed ledger, and once verified, they can recruit patients and access data through a search instead of waiting to access databases or electronic health records.
Meanwhile, patients get the ability to influence medical research while bettering their own health outcomes by linking up devices that track health habits like fitness trackers and smartwatches.
In November, Joo and Shi met Nam Nguyen during a late-night session at FastForward U East, an innovation hub that provides registered Johns Hopkins University students with 24/7 access to co-working space, meeting rooms and workstations. After bonding over discussions of emerging blockchain-based technologies, Nguyen joined the Atana team as COO.
Shortly after, the team started developing "a more cohesive business model," says Joo.
"A lot of new blockchain-related companies rush to launch their token sale and figure the rest out later," Joo says. "We're being diligent about both. At the end of the day we also want to have an actual product with a business model that makes sense."
Under this newer model, Atana is focusing on licensing their technology to pharmaceutical, biotechnology, medical technology and health care companies.
They have also established partnerships with health artificial intelligence companies, health systems, contract research organizations, DNA sequencing labs and pharmaceutical firms to test the technology's potential through pilot studies—including working with partners to test whether cryptographic protocols can be used to search millions of protected patient data points during the patient recruitment process while maintaining patient privacy.
Atana also received financial support this year from the Ralph S. O'Connor Undergraduate Entrepreneurship Fund, which supports Johns Hopkins students aiming to solve challenges through entrepreneurship. Members of each year's cohort receive up to $10,000 as a grant, mentorship from investors and serial entrepreneurs, and additional resources from FastForward U, a group within Johns Hopkins Technology Ventures that provides extracurricular training and resources to enable students curious about or committed to becoming an innovator or entrepreneur.
Joo said the company's business model and specifics were flushed out through long nights and odd hours at FastForward U's innovation hubs.
Looking ahead, Atana is working toward hiring employees on a salaried basis and readying to close a seed round within the next few weeks, gearing the company up for a token generation event in coming months, Joo says.
"When we started it was about blockchain's potential, not what can it do right now," says Joo. "We spent a lot of nights ironing things out into something we could really sell. I don't think that without such a space provided to us that [Atana] would have been possible."

Get more information about FastForward U here!