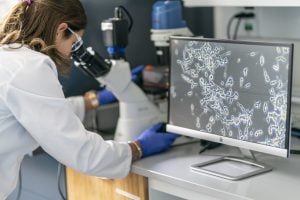 Weekly team meetings at BurnAlong's Baltimore-area headquarters always include a person leading the team in a series of stretches similar to the exercises and wellness classes the company offers through its online platform. Even with all employees now working remotely because of the coronavirus disease, COVID-19, the tradition continues over video conference, according to Matthew Locker, the company's director of marketing.
"Watching people all do this together over video is fun," says Locker. "Just being able to stand up and stretch with the team makes it feel like we're back in the office."
The COVID-19 pandemic has created operational challenges for many Johns Hopkins startups. But it also has provided a chance for some to pivot their focus in an effort to help those in need.
emocha Mobile Health has adapted its technology to remotely monitor health care workers who have been exposed to COVID-19. The company is now working with Johns Hopkins Medicine- and LifeBridge Health-affiliated hospitals to identify, track and manage symptoms of workers through video check-ins.
"We've experienced a steadily increasing number of inquiries focused on how the service can be used for systems monitoring," says Sarenka Smith, emocha's director of communications.
The increased demand means emocha is looking to hire more employees, and Smith says the company will be targeting people whose livelihoods have been affected by the pandemic.
"Our goal is to hire people who have been impacted by the emergence of COVID-19, whether it's students who have transitioned to remote learning or people who can no longer work in their sector or business," she says.
While digital health companies can continue doing their work online, startups that rely on FastForward's physical lab space have had to make an additional set of adjustments. Since March 18, 2020, only research activity deemed "essential" is continuing in labs. (FastForward continues to offer virtual services for startups, including legal and accounting support.)
Companies using the lab space are taking precautions to protect employees and minimize their potential exposure to COVID-19. One tenant, WindMIL Therapeutics, created a detailed schedule for its seven scientists to ensure only one person is in a lab at a time.
WindMIL employees in the lab are wiping down equipment before and after they work, says Kim Noonan, WindMIL's co-founder, chief scientific officer and executive vice president.
"Keeping research going is important but keeping people safe is even more important," says Noonan.
The company is in the midst of clinical trials for its technology, which takes T-cells from cancer patients' bone marrow, re-educates them and puts them back in cells to kill tumors.
"We're just doing the most essential clinical trial work," she says, including maintaining essential equipment such as liquid nitrogen tanks.
Noonan has very good friends who are doctors in Italy, so she and Eric Lutz, WindMIL's director of research, had been planning since before the pandemic was officially announced. Most of WindMIL's 29 employees can do their work from home, and there are daily check-ins. Those who would normally be in the lab are helping write and create figures for a soon-to-be published paper, she says.
"Scheduling and constant communication are the most important part of what we're doing," she says.
AsclepiX Therapeutics, which is developing peptide-based treatments for eye diseases and cancer, also is limiting lab access to one employee at a time, which restricts how much work can be completed. Another concern has been ordering and receiving reagents from vendors.
"As some of these reagents are perishable or time sensitive, the lack of reliant delivery systems has made this process difficult during this time at best and could completely shut down projects at worst," Niranjan Padney, vice president of research and development, and Adam Mirando, research scientist, wrote in an email.
The company's business operations have been minimally affected, they added, with employees working remotely and conducting video conferences.
BurnAlong's employees have been logging more hours as they try to get clients set up on their online platform in less than a day when it typically takes around a week, according to Locker.
BurnAlong is used by companies across the country that have locations around the world. The startup primarily works with two groups, says Locker: corporations, municipalities, universities and hospitals that want to set up wellness programs for employees; and local gyms and fitness instructors who use the online platform to record on-demand and live-streamed classes and workouts for clients. Users can watch the classes live with friends and family members they invite.
"People are seeing us as a long-term partner during this time," he says. "It's not just about bridging these next two-to-four months, but about how we can work together to keep people active and healthy year-round."