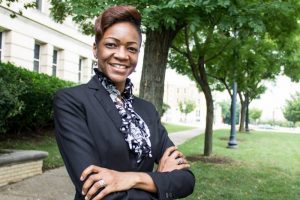 Dyslexia Advocation Inc., a nonprofit that educates, empowers and equips adults and parents of children with language-based learning disabilities, was awarded the $25,000 Cohort Prize by fellow members of the Social Innovation Lab's 2020–21 cohort.
Based at Johns Hopkins Technology Ventures, the Social Innovation Lab supports innovative, mission-driven companies and disruptive technologies to create change and opportunity in Baltimore and beyond.
The Abell Foundation funded the Cohort Prize, announced at the end of SIL's virtual Innovators' Showcase, during which the 10 cohort members presented their ventures to community members, potential funders, ecosystem representatives, and fellow entrepreneurs.
The April 27 event was the culmination of a five-month program that provided the teams with business support, including funding, advising, technical assistance and training, through a rigorous customer-discovery curriculum geared toward maximizing community impact and sustainability.
Winifred Winston, Dyslexia Advocation's founder, has been advocating for her 11-year-old daughter since she was diagnosed with dyslexia four years ago. The more she worked with her daughter, the more she saw Black and other underrepresented minorities lacked access to information about dyslexia and resources to help themselves and their children.
A former high school teacher, Winston watched one of her students struggle to get a job because of her learning disabilities. When Winston had a corporate job, a colleague who knew about Winston's advocacy for her daughter asked Winston for help with an employee with dyslexia.
Winston then decided to start her nonprofit to help parents offset the cost of quality advocacy services, specialized tutoring and neuropsychological evaluations as well as help businesses integrate neurodiversity into the workplace. She has built an online following thanks to a #BlackandDyslexic social media campaign she launched to highlight Black celebrities and noncelebrities to raise awareness. She is launching a podcast this summer through a grant from Morgan State University to raise awareness of learning disabilities in minority communities.
"From the moment Winifred interviewed for SIL, she was on a mission," says Madison Marks, SIL's director. "Throughout the cohort, I saw Winifred taking advantage of every opportunity, speaking to others about her business and building a support network around her. Her confidence in her leadership and purpose in leading Dyslexia Advocation was evident. During the internal cohort pitch, her progress, plan for the future and potential impact was clear to other cohort members."
Winston says she got emotional when she was announced as the $25,000 prize winner because the vote of the other teams meant they believed in her work. She called the money "icing on the cake" because she learned so much from taking part in SIL and praised the program for keeping her on track.
"That accountability is key because every week I had to do a report listing what I did this week, what I'm doing next week and what I did for self-care," she says. "It made you show up on days you didn't want to show up, the days you felt frustrated and defeated. Mission-driven work is not easy. Having that accountability, that structure, is essential to your ongoing success."
The coronavirus pandemic forced the SIL teams to meet online, but Marks says being remote allowed the entrepreneurs to connect with people during customer discovery who otherwise might not have been available. Each team made progress in its own way, she adds, whether they validated their approach or found new avenues to grow.
"There were a lot of wins throughout in terms of cohort members' enhanced confidence, getting into a rhythm of working as a team or realizing the need to pivot," Marks says.
Applications for the 2021–22 cohort will open in August. The cohort will operate on a hybrid model, incorporating in-person and virtual programming. Visit the SIL website for more information.
The other members of SIL's 2020–21 cohort were:
Bloc by Block News is a news media cooperative and civic engagement organization helping people tap into what matters most locally. The co-op offers a one-stop-shop for trustworthy information and news about Maryland towns, cities, and neighborhoods via a weekly newsletter, social media, and a forthcoming mobile app.
CovidSMS is a customizable mass-SMS system that provides COVID-19–related information and resources to individuals without reliable access to the internet.
Elevated Soups creates divine soups and stews for the public while reinvesting funds into outreach programs for the homeless in Central Maryland. This social enterprise component of the Franciscan Center will diversify additional revenue streams, create workforce development opportunities, and continue to provide nutritious soups to the homeless population. Healthy soups for healthy souls.
FAIR Housing aims to eliminate evictions in Baltimore City and restore humanity to an industry responsible for providing one of the most critically essential and fundamental human needs — housing — by utilizing innovation in thinking and leveraging technology.
Menti is a teletherapy platform that connects women of color to women of color therapists.
Restoring Inner City Hope Inc. (RICH) is a nonprofit organization founded in 2011 with the mission to love, inspire and empower youth and families throughout Baltimore City. Through the RICH Young Leaders Program, the organization is working with youths in the Cherry Hill neighborhood to develop their leadership qualities by exposing them to experiential learning and skills-building training.
SpreadKarma is a funding ecosystem empowering positive social impact in underserved communities through crowdfunding and education.
Taara Projects is a fashion-based social enterprise committed to perpetuating a transparent cycle of positive social and environmental impact through embracing sustainable and ethical practices along our supply chain, from creation to distribution.
The WeGo Foundation utilizes telepresence technology to provide hospitalized pediatric patients with live, virtual tours of museums and cultural attractions. Currently working with 11 hospitals and four partner venues across the country, WeGo allows children and their families to seek both educational enrichment and safe "escape" from the hospital.