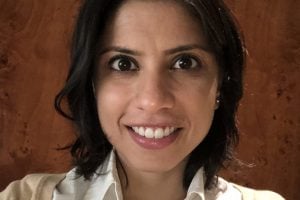 Seema Kacker, a fellow in the Commercialization Academy at Johns Hopkins Technology Ventures (JHTV), has been named the Johns Hopkins University Graduate Student Employee of the Year.
Kacker, an M.D.-Ph.D. student completing her doctorate in health economics at the Bloomberg School of Public Health, is the first JHTV fellow to win the award. A senior corporate partnerships fellow, Kacker has been with JHTV for 18 months.
"Seema is an exemplary student employee who I nominated based on her impressive and critical contributions to the team, her professionalism as well as her leadership," says Sean Evans, associate director of corporate partnerships. "I was elated to learn of her winning this award and believe that it was a well-deserved recognition."
Kacker applied to the Commercialization Academy because of her interest in technology and medicine. The program provides fellows with technology transfer experience and exposes them to career paths in commercialization. Meanwhile, fellows contribute in meaningful ways to JHTV's task of evaluating and assisting in the translation of Johns Hopkins research to industry, lending deep technical expertise and analytic rigor.
As part of the corporate partnerships team, Kacker says she has enjoyed "playing matchmaker" between biopharmaceutical companies and Johns Hopkins researchers — meeting with potential partners to understand areas of interest, identifying faculty or projects that would be a good fit and then maintaining connections once they've been made. She primarily works with Janssen, the pharmaceutical arm of Johnson & Johnson.
"I feel like a good fit here," she says. "The team is very welcoming and they've let me grow."
Kacker also appreciates the freedom JHTV has given her to pursue her interests. On Evans' nominating form, he noted that Kacker is leading a project to reorganize and update the materials sent to prospective partners to include both old and new inventor proposals.
"We believe this new system will save both us and our faculty time as well as lead to more collaborations that are executed more quickly," Evans wrote.
Says Kacker: "I like feeling like I can contribute. I like feeling like I'm actually part of the team."
Kacker earned a bachelor's degree in economics from the Massachusetts Institute of Technology. Before coming to Johns Hopkins, she helped run field-based development economics projects in India. Since joining JHTV, Kacker has become one of nine student ambassadors nationwide for Breakout Labs, a startup accelerator and investment fund backed by the Thiel Foundation.
Kacker will go back to medical school in January to finish her doctorate degree. She says she would like to practice medicine but remains interested in venture capital and startups.
Commercialization Academy interns work about eight hours per week and are paid for their time. Undergraduate and master's students make a two-year commitment. Ph.D. students and postdoctoral fellows typically have a one-year commitment but must discuss the program with their principal investigator or faculty mentor first — the program is meant to complement and not impede their academic commitment.
To apply to the Commercialization Academy or for more information, click here.