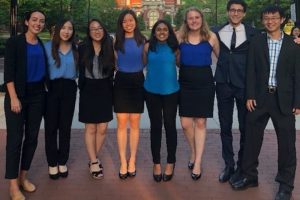 A company founded by Johns Hopkins University undergraduate students that is trying to reduce the risk of infection during home dialysis treatment will continue its work once the spring semester ends.
Relavo was selected for the Johns Hopkins University Summer Undergraduate Entrepreneurship Award, giving the company $10,000 to work full-time over the summer as well as receive mentorship from Johns Hopkins alums and entrepreneurs.
Relavo previously received $10,000 in grant money in the fall through FastForward U's Ralph S. O'Connor Undergraduate Entrepreneurship Fund.
"I'm very proud of this team and the hard work we put into this," said Anna Bailey (WSE '19), who leads verification and validation testing design and analysis.
Relavo is developing the PeritoneX, which aims to reduce touch contamination by disinfecting potentially contaminated connection points for peritoneal dialysis (PD). During PD, a solution is administered via a catheter through the lining of the abdomen, and the blood is cleaned nightly inside the body.
Of the more than 600,000 Americans living with kidney failure, less than 10 percent use PD, but that share is growing, according to Relavo. PD has been found to give patients a better quality of life than hemodialysis, where the blood is cleaned outside the body. But because patients administer the dialysis to themselves, there is a higher risk of contamination of the tube ends during setup, according to the company. The resulting infection, called peritonitis, occurs in 1 in 4 patients, requires hospitalization 60 percent of the time and is a primary factor in 1 in 6 PD patient deaths.
The PeritoneX is designed to disinfect contamination points after connections have been made but before the initial dialysis treatment. The device is small, affordable and disposable.
"This was an extremely competitive funding process, and it speaks highly to Relavo's dedication, focus and vision that they were selected for this award," said Kerrie Carden, FastForward U's director of student ventures. "The company has made fantastic strides and we're very excited to see where this summer will take them."
Sarah Lee (WSE '19), Relavo's project manager and chief design engineer, said Relavo's goals for the summer are to test and finalize one of the PeritoneX mechanisms and write two short manuscripts for publication. Ideally, the company would finish work on all mechanisms by the end of the year so it can begin validation testing and start the Food and Drug Administration regulatory process next year, she added.
Without the summer grant, Relavo would have focused more on business development instead of testing the product.
"I was really hoping to stay in the summer to work after graduation," said Lee, who will start a master's program at Johns Hopkins in the fall. "Now we actually have the funds to go forward."
Relavo formed in the Undergraduate Design Team program in the Department of Biomedical Engineering, where students spend 18 months designing, building and testing medical devices with the help of Johns Hopkins faculty. The idea of stopping infections in home dialysis was appealing to team members because it was a clinical need that could have a large impact, according to Lee.
"It seemed like a relatively simple solution, but no one had tackled it before," said Lee.
The students talked with doctors across the country and world to determine the need for their product. They also built connections through FastForward U, particularly finding mentors who have helped them understand regulatory issues and refine their pitch.
"We appreciate the help we've gotten from FastForward U and JHTV, especially on the business development side, because we had no experience there," said Bailey.
Relavo was one of 24 applicants for the summer grant and one of a dozen finalists interviewed last month.
"We were incredibly excited about the quantity and quality of applications for this award," said Kevin Carter, student venture coordinator for FastForward U. "Twenty-four undergraduate ventures at Hopkins were willing to dedicate their entire summer toward making significant progress on their startups, which is a testament to their drive and devotion as student entrepreneurs."