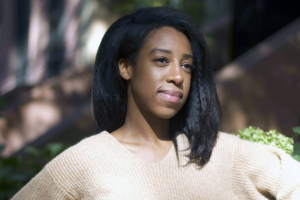 Bree Jones had no real estate or construction experience three years ago when she purchased an abandoned house near the Bronx and oversaw its redevelopment. But she achieved her goal of creating three affordable housing units in the neighborhood.
"I got a lot of bumps and bruises along the way," she says with a laugh.
The experience confirmed a new career direction for Jones, a member of the 2019–20 cohort of the Social Innovation Lab (SIL) at The Johns Hopkins University. She left her finance job on Wall Street to found Parity, an equitable development company that plans to rehab 96 vacant row houses in West Baltimore to create affordable homeownership opportunities. Parity's mission is to help revitalize historically disinvested neighborhoods while also ensuring longtime residents can benefit from the reinvestment.
"Equity for me is about redistributing power," says Jones, 29. "It would be really easy to acquire all of these buildings and use them as rentals in perpetuity, and I'm the only one who benefits from that in terms of building wealth. Equity in my mind is, what value are you creating and leaving for others?"
Jones' vision of "development without displacement" was recognized by her peers in the Social Innovation Lab, who voted to award her the $25,000 Cohort Prize last month based on the strength of her progress over the six-month cohort period, plans for future growth and potential for impact.
The Abell Foundation provided the prize money for the award, which was announced at the end of SIL's virtual 2020 Impact Forum, during which all cohort members pitched social ventures.
"Across the board, the teams in the 2019–2020 SIL cohort have real promise, but it takes more than a good business plan to build a movement," says Alex Riehm, SIL's director. "As a cohort, we've seen the quality of [Jones'] work and commitment, her leadership and service, and together we're betting on Bree."
Jones' interest in equitable development began a few years ago when she saw parts of her hometown, New Rochelle, New York, undergoing gentrification. She became a housing advocate, calling on elected officials and big developers for affordable housing, local hiring and living wages — "all of the things that a community undergoing redevelopment would ask for," she says.
Her protests did not sway the developer, but Jones "realized there's a lot of power and a lot of opportunity in being a developer that has equity at its center and as a core founding principle," she says.
After property values in the Bronx neighborhood where she rehabbed the abandoned property tripled within a year, Jones looked around the country to determine where she could have an impact at scale to make affordable housing. She fell in love with Baltimore and has spent the last 18 months building relationships in the city and building out her team with a general contractor and architect, each with decades of experience renovating row houses.
"My role as a developer is to bring the development team together, raise capital, attract homebuyers and engage with the community in an equitable way," she says.
Jones so far has been able to attract 16 potential homeowners to the project, all through grassroots organizing. Each has qualified for a mortgage via a banking partner to buy one of Parity's homes. Jones is targeting move-in for these buyers for the middle of next year and hopes to have most, if not all, of the vacant homes across 10 contiguous blocks rehabbed and occupied in six years.
The SIL prize money will go toward early acquisition of some properties, Jones says. That she even was part of this year's SIL cohort was a surprise to her. Jones attended an SIL Impact Bootcamp and unsuccessfully applied for the 2018–19 cohort. But she continued building Parity and grew her network of community partners.
Three of the last four SIL Cohort Prize winners did not get into SIL on their first try, which Riehm says demonstrates the quality of social ventures in Baltimore.
"We always welcome reapplications, and we were especially glad Bree reapplied, because it gave us a chance to see her perseverance and how she has been able to grow her network and community partners, leverage new resources to her cause and continue to build the movement in Baltimore behind Parity," he says.
Once part of SIL, Jones performed an in-depth consumer research analysis to help her better understand the needs of her target market and her community.
"That really helped me to validate that what I was building was not just something I wanted but that there was a true market for it, a true need for it," she says.
In addition to progress in building Parity, Jones says she has created lasting relationships with her SIL cohort over the past year.
"Everybody is doing amazing, inspirational and necessary things, and I learned so much from them in the process," she says.