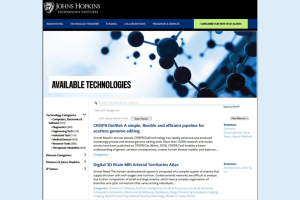 Johns Hopkins Technology Ventures' TechPublisher website has a new look and user-friendly features for its database of the nearly 2,000 Johns Hopkins technologies available for licensing.
Users can now subscribe to get alerts about specific inventors or technologies and decide on the frequency with which they receive emails. An enhanced search engine makes it easier to find technologies whether searching by inventor, category (from as general as "imaging" to as specific as "cerebral ischemia") or patent status.
The names of the faculty inventors are more visible on the revamped website, which has maintained all of the links and URLs from the previous version.
"With this new release of our TechPublisher website, we aim to make Johns Hopkins innovations more accessible to prospective licensees and those who wish to collaborate with our investigators," says Steven Kousouris, JHTV's executive director of technology transfer. "New technology listings are being published each week, and this optimized search and subscription functionality will help our industry partners stay informed."
You can explore the updated TechPublisher site by clicking here.