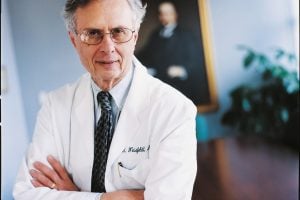 Myron L. "Mike" Weisfeldt, M.D. has spent his career addressing long-existing health disparities among underrepresented minorities. As chairman of the Department of Medicine at the Johns Hopkins University School of Medicine, he led the development of the Sickle Cell Center for Adults at The Johns Hopkins Hospital and what is now the Medicine-Pediatrics Urban Health Residency Program at Johns Hopkins while also increasing the diversity of the faculty.
His other efforts to forge change have been subtler. While department chairman, for example, Weisfeldt was told by minority residents that almost all doctors and staff called Black patients by their first names but called white patients by their last names. So Weisfeldt had all staff retrained to address all patients by their last name to eliminate what had become an accepted distinction in care practices and patient respect.
"If you're in charge, you have 500 or so faculty and 700 trainees who are part of your responsibility for leadership," says Weisfeldt, now a professor medicine and medical consultant for Johns Hopkins Technology Ventures (JHTV). "You really either attempt to make a difference or just fall in line."
Weisfeldt's championing of diversity in health care will be celebrated next month when he receives the American Heart Association's (AHA) Watkins-Saunders Award, given annually to a doctor who demonstrates outstanding commitment to overcoming health and community disparities in Maryland.
"He's beyond deserving for the impact he's had on persons with diverse backgrounds," says Michelle Albert, M.D., M.P.H., president-elect of the AHA.
The award is named after two legendary cardiovascular specialists in Maryland — cardiac surgeon Levi Watkins Jr. and cardiologist Elijah Saunders — who addressed health disparities in the state while at Johns Hopkins and the University of Maryland, Baltimore, respectively.
Weisfeldt was colleagues with Watkins, a civil rights leader who brought contemporaries to Johns Hopkins for Martin Luther King Jr. Day programs. Weisfeldt gave updates about the medical school at Watkins' annual party welcoming underrepresented minority students and faculty to campus — a gathering, Weisfeldt noted, that grew from a small room in a restaurant to needing the entire space rented out.
Weisfeldt also was invited to speak at the University of Maryland about Johns Hopkins' diversity efforts, an invitation he is convinced was orchestrated in part by Saunders.
"I couldn't, in my career, think of two people that had more influence on what I tried to do," says Weisfeldt, a former AHA president.
Weisfeldt, 80, entered medical school at Johns Hopkins in 1960 when the hospital had a segregated blood bank. When he became chairman of the Department of Medicine in 2001, underrepresented minorities made up no more than 3% of staff in any specialty. So Weisfeldt talked up diversity at every opportunity, started a diversity council, enlarged Johns Hopkins' interview pool for prospective residents and personally met with potential minority hires.
"I have always believed that by discriminating against talented people from minority communities, we are depriving medicine and science of great people and great teachers and great products," he says.
By 2004, 13% of new assistant professors in the Department of Medicine were underrepresented minorities.
"He's one of the earliest proponents of increasing women and minorities in medicine, cardiology in particular," says Roger Blumenthal, M.D., director of the Johns Hopkins Ciccarone Center for the Prevention of Cardiovascular Disease, who completed his residency and fellowship under Weisfeldt and nominated Weisfeldt for the Watkins-Saunders award. "He made it more interesting, more desirable for people to get involved in cardiology and showed that academic medicine was a great career path for people who weren't well-represented in the past."
"It's very obvious to doctors how social determinants affected health and wellness of underrepresented minorities," Weisfeldt told a group of retired faculty in March during a lecture on his diversity efforts while Department of Medicine chairman. "I felt unless we made an effort that was successful in this arena that I could not face up to [minority residents] and say we did the best we could to improve minority health."
In addition to the Sickle Cell Center and Urban Health Residency Program, Weisfeldt arranged for staff to be trained on the use of buprenorphine to treat opioid addiction and emphasized cardiovascular preventative care. Between 2008 and 2011, the number of admissions from East Baltimore at Johns Hopkins for HIV, heart disease and acute lung illness dropped 50%.
Those same city residents also could be eligible for The Access Partnership, through which uninsured and impoverished patients receive a full outpatient workup and inpatient care for a nominal fee.
"We didn't have a responsibility for taking care of every patient in the world who was a minority or who came to our shores for care," he told the retired faculty group. "But [I thought] we should take on a special responsibility for the care of patients in East Baltimore in the five ZIP codes around The Johns Hopkins Hospital."
Weisfeldt stepped down as Department of Medicine chairman in 2014. He became medical director of JHTV and has been its medical consultant since 2018, in both roles advising aspiring innovators and entrepreneurs on commercialization issues.
He also proudly keeps tabs on his mentees, including Albert, whom he met when she was an internal medicine resident and he was chairman of the Department of Medicine at the Columbia University Vagelos College of Physicians and Surgeons more than 20 years ago. Albert mentioned to Weisfeldt she was interested in cardiology and he invited her to a meeting.
"He's my longest, continual mentor," says Albert, now a professor and associate dean of admission at the University of California, San Francisco School of Medicine. "I've bounced almost every major academic decision I've made off him."
Weisfeldt will receive the Watkins-Saunders award May 20 at 12 p.m. during the Heart of Maryland Digital Experience celebration. Click here for more information.