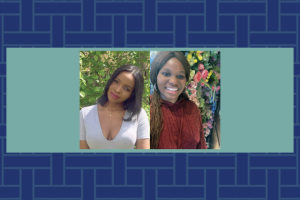 Fem Equity, a member of the Social Innovation Lab's 2021-22 cohort, includes Adeola Ajani, CEO and founder, and Chidera Egbuche, director of systems and management.
Tell us about your company. What are you working on?
Ajani: Fem Equity is a membership-based platform that should be a required tool for every career woman! We aim to enhance underserved women's careers and provide strategies to take them to the next level by providing crafted, practical and realistic techniques for a variety of career challenges in an open and accessible way. Our master classes are a top-tiered curriculum that is grounding and empowering yet brings transcending and transferable information regardless of the industry.
We currently have 10 women in our beta program, and we are now looking to scale our services tenfold to support more than 100 women. We also hope to partner with more organizations supporting these women. To make this growth possible, we created the "Know Your Worth!" campaign focused on advancing the Fem Equity platform and committing to putting an end to a billion-dollar multi-generational wealth gap that affects millions of women and families.
Why did you decide to start Fem Equity?
I never saw myself in the social impact/justice sector or as an innovator. I did know that income and leadership equality are desperately needed, especially in places like Baltimore. While conversing with various people in the community, I noticed various wage disparities and wanted to create change.
For example, in Baltimore City, women's earnings as a percentage of men's earnings is 85.3%. Moreover, the industry with the largest pay gap is finance and insurance. According to CFED's Racial Wealth Divide Initiative, Blacks in Baltimore have a median household income that is 54% of that of Whites, while nationally Blacks have 60% of White income. The Latino community in Baltimore has 70% of the income of Whites compared to Latinos having 72% of White income nationally. Overcoming these disparities requires work.
During my undergraduate studies at Towson University, I created a startup focusing on pay equity and changing women's lives through coaching and financial literacy. Now that our model has proven to work, we seek to expand these equitable services to the community.
What constitutes success for you?
Success for Fem Equity is to continually creating and offering effective tools for disrupting systems for underserved communities including BIPOC and women of color. We are creating a platform where internally and externally Fem Equity communities are determined, adaptable and have perseverance.
What have you accomplished so far?
In 2021, we achieved the following:
Gaining 10 beta members
Securing 1 client partner for our corporate membership
From our beta group, we have seen some exciting outcomes:
Our members have had a combined $18,000 in salary raises through negotiation or promotions.
80% of members are now working in the field of study/aligned work after less of a year of being a member.
Approximately $18,000 student debt/consumer debt has been erased
How can people get involved in supporting you in your venture?
Everyone can get involved by pledging a reward through our crowdfunding campaign "Know Your Worth!
1. Contribute what you can! Talk to family or friends who might want to contribute or secure their spot. We encourage purchasing one of the rewards, from Hugs and Wishes to Triple Diamond Champion.
2. Share our campaign on social media by tagging three or more people who would benefit from this campaign. You can find us on Instagram, Twitter and Linkedin.
3. Continue to know your worth so we can put an end to the race and gender pay gap.
4. Do you have any skills, talents, or services that can help us push this message even further? Contact us at [email protected] to discuss collaborations!
What advice do you have for future social entrepreneurs thinking about starting a venture?
Start now! Get comfortable talking about and promoting your idea and turn it into a movement. I especially want to encourage women of color thinking of pursuing a venture. The global rate of women and minority entrepreneurship has been steadily increasing. The U.S. has 12.3 million women-owned businesses, and 40% of those businesses are women-owned. There is a market and need for you. Just start!
Why did you apply to SIL?
I was attracted to SIL because it is Baltimore's hub for social entrepreneurs and I wanted to elevate Fem Equity. My team wanted more resources and opportunities, greater access to funding and capital. Being a part of the Social Innovation Lab and Johns Hopkins can give us a broader reach. We can market and promote Fem Equity to bigger women-based and BIPOC audiences.
Read more about Fem Equity here. To learn more about the Social Innovation Lab and the 2020–22 cohort, click here. Join them at the SIL Innovators' Showcase event, 4–6 p.m. on April 26.