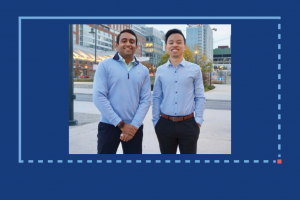 WeGo includes Galen Shi, founder and managing director; Pavan Shah, executive director; Hayden Dux, director of development; and Eric Fei, director of marketing.
Tell us about WeGo. What are you working on?
Being a kid in a hospital stinks. Patients often feel a lack of autonomy and socially isolated. Hospital systems are well aware of this and have entire child-life departments that exist solely to improve the pediatric inpatient experience. While their interventions are helpful, they still do not address one key need: Children are used to being out in the world exploring.
WeGo aims to address this gap by allowing pediatric inpatients to "escape" their hospital rooms by using a telepresence robot to virtually tour cultural attractions. We provide patients with an enriching and exciting experience, ultimately allowing them to feel a sense of normalcy and autonomy.
Why did you decide to start this? Where did the idea come from?
The idea behind WeGo was a marriage of Galen Shi's experiences volunteering with kids inside hospitals and with telepresence robotics. He saw firsthand the isolation and lack of autonomy that pediatric patients faced.
When brainstorming about ways to solve this problem, he realized the ideal solution would allow these kids to virtually be "present" at places outside the hospital. Video chat was not immersive enough, and VR sets presented alternate realities. The optimal solution turned out to be telepresence robotics, which Galen was already familiar with thanks to his prior internships when he was an undergraduate at The Johns Hopkins University. He then joined forces with Pavan Shah, a classmate of his at the Johns Hopkins University School of Medicine, to optimize the solution and bring it to children at hospitals across the country.
What constitutes success for WeGo?
Success for WeGo will be when children from hospitals across the country (and even across the world) can access live tours of venues and attractions that could be across the street or thousands of miles away, based on patients' interests. Even though the children's medical care may have intimidating aspects, we want them to forget about their physical surroundings and feel like a kid again.
What have you accomplished so far?
We are honored to have provided tours for more than 500 pediatric inpatients already. We are currently working with 12 hospitals and providing tours at five partner venues. We have grown to be a team of four with numerous volunteers and advisors, ranging from telehealth experts to experienced clinicians. Thanks to recent research and startup grants, we are working on establishing various pilots to assess which other populations our intervention may assist. These include additional pediatric populations, such as kids undergoing dialysis, and even geriatric populations, such as seniors living in long-term care facilities.
How can people get involved in supporting you in your venture?
We are fundraising to continue expanding our fleet and scaling our intervention — donate here!
Are you interested in bringing WeGo's services to your hospital or your venue? Contact us here to join our waitlist.
Stay up to date with what we're working on by following us on Instagram and Facebook!
What have been some of the biggest challenges in scaling your venture during the pandemic?
The biggest challenge for us when scaling our venture during the pandemic was the closure of attractions to the public. This made it difficult to continue our service, especially early in the pandemic. However, by working closely with our amazing partners, we were able to rapidly develop solutions that allowed us to continue caring for patients at a time when hospitals felt like they needed us more than ever because of visiting restrictions and physical distancing guidelines.
In addition to our normal tours, we were able to develop additional ways to serve our patients. For example, we hosted a virtual egg hunt where patients called into robots and searched the hospital; we had guest visitors, including several Baltimore Orioles players and a NASA astronaut; we allowed patients to visit the dolphins at the National Aquarium; and we hosted weekly art shows and science experiments.
What advice do you have for would-be social entrepreneurs thinking about starting a venture?
First, make sure that the solution you're developing is based on a real problem. That conviction will be crucial to your early traction and when you need the resilience to move forward when things get tough. Second, make sure you develop an excellent team. Third, just get out there and do it. There are a ton of free resources available for social entrepreneurs, and it's possible to bootstrap almost anything you need for your venture to move forward in the initial stages.
Why did you apply to the Social Innovation Lab (SIL)? What attracted you to SIL?
It's clear if you look through SIL's past cohorts that it is a program where teams get set up for success. Having been a part of the program now, it is no mystery why. Since joining the cohort, we've had access to all the resources we could possibly need — legal support, advice for our pitch decks, and expert insights regarding our business plans. We think that moving forward, all the work we have put in here with this amazing team will be what sets us up for success.
Beyond that, SIL has been a great place to connect with other passionate entrepreneurs in Baltimore that are building solutions for issues that are worth solving. It is truly a privilege to be a part of this community and part of SIL.
Read more about WeGo here. To learn more about the Social Innovation Lab and the 2020–21 cohort, click here. Join them at our virtual SIL Innovators' Showcase event, 4–6 p.m. on April 27.