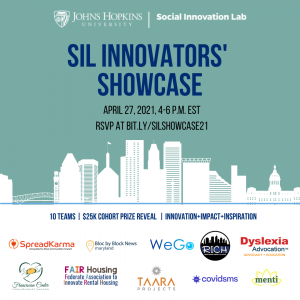 Join us for our annual event to hear from social innovators as they share the stories behind their solutions tackling challenges in Baltimore and beyond.
Over the last five months, the teams in the Social Innovation Lab's seventh Accelerator cohort have been working hard to validate their business models and potential for impact. Now, they will share their journeys with you!
Our event will culminate in the announcement of the $25k Cohort Prize, which is awarded to the team based on the strength of their progress over the cohort period, plans for future growth, and potential for impact.
Speakers:
Christy Wyskiel, Senior Advisor to the President of Johns Hopkins University for Innovation and Entrepreneurship
Kunal Parikh, serial entrepreneur (Global Institute for Vision Equity; Access HEARS; Social Innovation Lab) and Faculty, Johns Hopkins University School of Medicine
Madison Marks, Director of the Social Innovation Lab
SIL Cohort Team Presentations:
Bloc by Block News is a news media cooperative and civic-engagement organization helping people tap into what matters most locally. The co-op offers a one-stop mobile app for trustworthy information and news about Maryland towns, cities, and neighborhoods.
CovidSMS is a customizable mass-SMS-system that provides COVID-19–related information and resources to individuals without reliable access to the internet.
Dyslexia Advocation Inc. educates, empowers, and equips adults and parents of children with dyslexia with the necessary tools to advocate successfully for themselves and their children.
Elevated Soups creates divine soups and stews for the public while reinvesting funds into outreach programs for the homeless in Central Maryland.
FAIR Housing aims to eliminate evictions in Baltimore City and restore humanity to an industry responsible for providing one of the most critically essential and fundamental human needs — housing — by utilizing innovation in thinking and leveraging technology.
Menti is a tele-therapy platform that connects women of color to women of color therapists.
Restoring Inner City Hope Inc. (RICH) is a nonprofit organization founded in 2011 with the mission to love, inspire and empower youth and families throughout the city of Baltimore.
SpreadKarma is a social donation-based crowdfunding platform that provides exposure, support, and access to funding for changemakers creating positive social impact in underserved and underrepresented communities.
Taara Projects is a fashion-based social enterprise committed to perpetuating a transparent cycle of positive social and environmental impact through embracing sustainable and ethical practices along our supply chain, from creation to distribution.
WeGo improves the pediatric inpatient experience by allowing hospitalized children to control telepresence robots and virtually explore children's attractions, such as museums and aquariums, in real time.
Announcement of $25k Cohort Prize, supported by the Abell Foundation