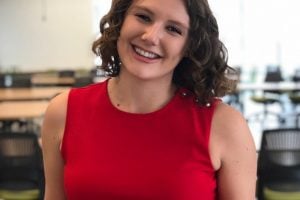 Pava LaPere is scheduled to graduate from The Johns Hopkins University in May with a degree in sociology, a major she only decided to pursue as a senior after three years studying computer science.
That's because LaPere, 21, wants to use entrepreneurship to solve inequalities in society, and doing that without a sociology background would be like "launching a project without market research."
The focus on entrepreneurship is a fitting bookend to LaPere's time as a JHU student. As an incoming freshman, she joined a Facebook group chat with other students interested startup culture that ultimately led to the formation of TCO Labs, a nonprofit that fosters entrepreneurship on the Homewood campus while also encouraging students to get involved in the local innovation ecosystem.
"We have so much potential and ability to make a difference while students," she said. "There's no greater safety net."
In addition to serving as president of TCO Labs, LaPere is director of The Hatchery, TCO Labs' incubator, and created EcoMap, which diagrams available resources in the Baltimore region for entrepreneurs. She also is a co-founder and organizer of Innov8MD, an annual conference showcasing student entrepreneurs from across Maryland's universities.
"My attention's always being pulled in different directions," she said.
After graduation, LaPere will become a member of TCO Labs' Board of Directors, as a team of undergraduates will take over leadership roles in the organization. The Tucson native also plans to stay in Baltimore and is weighing offers from both Hopkins and the city on jobs that would allow her to continue growing the region's entrepreneurial ecosystem.
In five words or less, what does your company do?
TCO Labs fosters entrepreneurship at the Homewood Campus.
Innov8MD supports student entrepreneurs across Maryland.
EcoMap helps entrepreneurs find venture resources.
What's one success TCO Labs has had that you're particularly proud of?
The Hatchery, the undergraduate venture incubator. Especially when it comes to undergraduates, I think incubation programs are extremely important for teaching students the fundamentals of entrepreneurship using real-world experiences. The Hatchery works with up to 15 student-teams at a time. I'm extremely proud not only of my core team that makes The Hatchery run, but also of the teams that have come out of the program.
What's been your favorite idea to go through The Hatchery?
Yikes, that is like asking me to pick between children. There have been plenty of amazing ideas to pass through the program, but I think one of our top teams is definitely Kubanda Cryotherapy.
They use carbon dioxide to perform cryoblation of breast cancer tumors in low-resource settings. Not only is the team amazing, but they have been able to position their technology very well as they progress toward their target market, which shows a deep level of understanding of their technology and market dynamics.
We have teams working on everything from helping the homeless find shelters to creating cybersecurity networks for IoT devices to designing haptic feedback gloves for VR. With so many amazing ideas, it's impossible to pick a favorite.
What led you to create the EcoMap?
Working with student entrepreneurs, I discovered it was very easy to point them to resources applicable to their ventures within the Hopkins innovation ecosystem, since it is pretty small.
However, when it was time for the teams to look to Baltimore's ecosystem, I had no idea where to point them. There are so many resources for entrepreneurs, and yet there is no place where they are all centralized and sortable. We created EcoMap to give entrepreneurs a look at all of the resources available to them, as well as to give ecosystem developers an idea of what resource gaps may exist within their communities.
How has FastForward U helped TCO Labs grow?
TCO was founded a few years before FastForward U was established, and it has been insane to see the changes in the Hopkins entrepreneurial ecosystem brought about by the FFU team. They are an essential part of the ecosystem here, particularly by providing a lot of the funding resources that TCO Labs simply can't.
We collaborate closely on how we can create a community that supports student entrepreneurs – or those simply interested in entrepreneurship – at every level. Whether that means working together on events, ideating new programs or hanging out at the space, I probably talk with the FFU team more than my parents.
What is the best part of having the FastForward U space on campus?
I have close ties with the FastForward U Homewood space, and seeing it constructed was one of the highlights of my time at JHU. Creating a space for student entrepreneurs on campus was one of the first big goals of TCO, and during our first year we co-authored a proposal with the Student Government Association. We were hoping for some dusty classrooms in the basement of Maryland Hall. Instead, thanks to FFU, we got a new building. I think the best part of the space is that it can be a place dedicated to working on your venture as opposed to doing school work. It creates a separation between the two spheres that I think is really beneficial for student entrepreneurs juggling myriad commitments.
Which innovator do you look up to and why?
Andrew Yang, the founder of Venture for America. His first book, "Smart People Should Build Things," fundamentally changed the way I thought about the benefits of entrepreneurship to society and showed me how vital it is keep young talent within innovation ecosystems. It became the basis for much of my work at TCO, Innov8MD and EcoMap.
In addition to his emphasis on economic development through entrepreneurship, he takes a very frank stance on how we have to be deliberate in order to not leave anyone behind as we beckon technological advancement, an under-emphasized point in modern development rhetoric.
What's one piece of advice you would give a student who is thinking about forming a startup?
Be certain you are truly passionate about the problem they are trying to solve. Being an entrepreneur is hard, but being a student entrepreneur is an entirely other battle. You will constantly be pulled between multiple commitments and, especially if you have more than one venture, you will often feel like you will never catch up with all you have to do. But if you love the problem you are solving, none of it feels like work. I know it's cliché, but it's the truth. If you love the problem, you can throw your heart and energy into your venture without a second thought, and that's what makes the ordeal of entrepreneurship worth it.
In terms of startups and innovation, what's one thing that separates Baltimore from other tech hotbeds?
Baltimore is the perfect place to be to start a company right now. There has been incredible development of Baltimore's innovation ecosystem over the last decade, and there are now more resources than ever dedicated to supporting entrepreneurs in the city. Since Baltimore is less saturated with companies, there is less competition for these resources, meaning that you have an even greater chance of getting the resources you need. Additionally, Baltimore also has a low cost of living, which really helps when you are working on early-stage, pre-revenue companies.
But I think the most important thing is the fighting spirit of the city, where everyone here is dedicated to making it better through our collective action. That creates a community environment that is irreplaceable.
What's your favorite non-school-related thing to do in Baltimore?
Although it's not in directly in Baltimore, one of my favorite things to do here is visit the Loch Raven Reservoir about 20 minutes away in Towson. It's a giant lake surrounded by miles of hiking path – it's so big and peaceful you would never know there is a city nearby.
In the summer, I go there to kayak, and if I am ever working through a hard problem, I find it helpful to remove myself from Hopkins and go into the woods, where I can enjoy nature and work through whatever I need to.