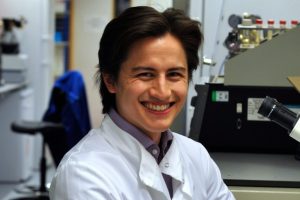 A disease to which seemingly everyone has a personal connection, cancer causes approximately 600,000 deaths in the United States annually.
Avidea Technologies intends to blunt cancer's impact through the development of its proprietary nano-scaffold technology that may one day enable them to engineer safer and more effective immunotherapies for the treatment of cancer. Its approach may also have broader applications to infectious disease prevention.
The Maryland-based startup is currently developing this technology at FastForward 1812, where it keeps office and lab space. One of the company's co-founders and its Chief Scientific Officer, Andrew Ishizuka discusses Avidea's mission, Maryland's startup support system and how entrepreneurs can adapt to an increasingly busy schedule.
In five words, what does your company do?
Applied immunology and drug delivery.
What are your goals and how will you get there?
Avidea's main focus is the development of a personalized cancer vaccine for treating patients with advanced cancers. Avidea, with several academic collaborators, has developed a vaccine technology and process for generating cancer vaccines that are unique to each patient. The benefit of a personalized cancer vaccine is that it can teach the immune system to recognize and eliminate cancer cells without affecting normal, healthy cells.
We've carefully tested our approach in rigorous preclinical models over several years and are now poised to undertake clinical trials. To get there, we are currently completing a series of carefully regulated experiments for the FDA prior to starting the trial. Entry to the clinic will be a major milestone for our company.
What makes Maryland a good home for your startup and a good place for growing a business?
Maryland has all the resources to build and grow a biotech startup, including mentorship, pitch competitions, ready access to capital, and legal and consulting services. The real selling point, however, is the scientific community.
Avidea was founded by scientists who trained at Johns Hopkins and the National Institutes of Health, and we continue to collaborate with labs in the area, including ones at the Johns Hopkins University School of Medicine, NIH and University of Maryland. There will always be considerable competition in biotech. We strive to differentiate ourselves on the strength of our science, which is bolstered by our cooperation with Maryland universities.
What resources from Johns Hopkins have helped Avidea grow?
Avidea is based in the FastForward 1812 innovation hub managed by Johns Hopkins Technology Ventures. In addition to leveraging the facilities and broader Johns Hopkins Technology Ventures' network, we also make use of the larger core facilities at the medical school on a regular basis. This gives us access to otherwise cost-prohibitive advanced instrumentation, accelerating our product development cycle.
Importantly, we also collaborate with Johns Hopkins investigators who contribute scientifically to our product development.
If you could give your past self one piece of advice for creating a startup, what would it be?
"Your schedule next month will not be lighter."
Having the opportunity to build a company is a tremendous privilege, but the demands and diversity of activities required of co-founders increases with each stage of growth.
Every day, I'm excited about our work and inspired by its potential to improve human health. I've found that the most effective way to manage my time is to prioritize tasks based on their importance to the long-term growth of the company, remembering that maintaining a healthy work-life balance for myself is aligned with that goal. Building a company positioned to grow over the long term is a marathon, not a sprint.
What book are you currently reading?
An Astronaut's Guide to Life on Earth by Chris Hadfield. Hadfield is an accomplished astronaut perhaps best known for his captivating music video of him performing David Bowie's Space Oddity aboard the International Space Station. I enjoy reading about people who have made significant contributions in their career to learn about how they managed different challenges. I suppose it helps with the ups and downs of managing a startup.
What innovator do you look up to? Why?
Jane Goodall. I admire that she – as a woman facing considerable entrenched biases – struck out into an entirely new field, and through her determined efforts changed the way people view animals.
What's your favorite non-work-related thing to do in Maryland?
I started sailing on the Chesapeake about five years ago and probably enjoy thinking about the physics of sailing about as much as relaxing out on the water.

Meet other FastForward startups by subscribing to JHTV's newsletter!