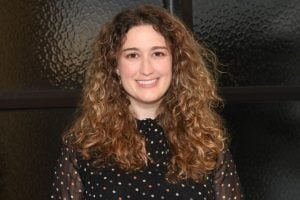 Mothership was planning a summer rollout of its virtual classes for millennial parents led by health care professionals who also are recent parents. But as the COVID-19 pandemic continues, founder Martelle Esposito decided to move up the launch to this month, with support groups available for fertility, postpartum and parenting, among other topics.
"In-person classes and support opportunities have stopped, so families may be navigating more on their own than before or looking for opportunities to connect virtually. We wanted to be there for those that are seeking some additional support at this time," says Esposito, a member of the 2019-20 Social Innovation Lab cohort. "During emergencies like this pandemic, I think it's everyone's responsibility to maximize and get creative with the resources we have."
Esposito has spent her career in public health, including working with the Special Supplemental Nutrition Program for Women, Infants and Children (WIC). Her professional and personal experiences led her to found Mothership, which has nearly 20 Mothership Certified health professionals fully trained as teachers and support group facilitators.
What advice would you give new or expectant parents who are concerned or worried about COVID-19?
There are people here to support you as you navigate the transformative time of becoming a parent and raising children. Don't be afraid to reach out — whether that's to your friends and family, your health providers or to resources such as Mothership. I don't think I am saying anything groundbreaking when I say that connection, especially right now, is important, but I think sometimes we forget or underestimate its power in reducing stress, validating our experiences and helping us get through tough times.
Tell us about your project and your goals.
Mothership is a nonprofit organization working to bridge the gap between health expert and parent friend. Growing healthy humans is a tough job, and each family is unique. Getting health information and support should be as easy and painless for parents as turning to a friend they know and trust.
Mothership provides families with credible health education and empathetic support resources from health expert moms in a digital environment. The Mothership Certified training program gives health service providers the knowledge and tools to build empathy and promote empowerment in health practice to be the health partners millennial parents are looking for.
Why did you decide to start this? Where did the idea come from?
Because of my work, friends and family like to share their stories with me about their experiences related to maternal and child health. I was hearing a lot of stories in my personal and professional life about emotionally challenging experiences with pregnancy, childbirth, breastfeeding and parenting as well as the lack of easy access to credible information, judgment-free advice and empathetic health care services. These are systemic challenges across the country, and I knew we could be doing a better job.
Mothership took a human-centered design approach to the problem, co-creating our programs with parents and health service providers who work with parents. Early in our program development process, we interviewed a mom who had a best mom-friend who was also a nurse. The friend did not judge her, understood what it was like to be a mom and had medical knowledge that helped her get through some of the challenging aspects of motherhood. We thought about how we might try to create that experience for all parents, because having someone like that as a resource could help solve many of the issues identified.
What would you consider success for your project and how would the world be different if your project is successful?
We will have a thriving community of parents with health-expert parents providing credible, relatable health education resources and support opportunities such as classes, workshops, support groups, blog posts, podcasts and social media content. We also will have tools for parents to curate and personalize their content. Finally, we will have an army of health service provider catalysts across the country that have completed the Mothership Certified program, embedding empathy into their local health systems.
Ideally, Mothership will help to change health culture and how we deliver health information to families in the United States to achieve our vision: a society that empowers, supports and respects families in achieving their health goals.
What have you accomplished so far?
We have achieved official 501(c)(3) nonprofit status, created an organization website and established a social media presence on Instagram and Facebook.
Using a human-centered design approach, we co-created two programs with more than 120 moms and health service providers with several iterations and promising early impact after pilots. We were awarded a 2019 Core 77 Design Notable Award in the Strategy and Research category for this work. We've also presented our program development work as a part of an article in Fast Company, a cover story for Design Museum Magazine, as a conference presentation for the Academy of Nutrition and Dietetics 2019 Food and Nutrition Conference and Expo, and as a poster at the 2019 Johns Hopkins Women's Health Research Symposium.
We've also been invited to deliver Mothership Certified modules at conferences and as webinars.
What's your favorite place or thing to do in Baltimore?
I love urban parks and greenspaces. I like walking in Wyman Park and biking around Druid Hill Park.
What advice do you have for would-be social entrepreneurs or other students thinking about starting a venture?
Don't be afraid to learn by doing. You don't have to be an expert on entrepreneurship before getting started. There are a lot of resources and people in Baltimore that you can learn from and apply to your work.
Register for support groups on Mothership's website or follow Mothership on Facebook, Instagram or Twitter.
The Social Innovation Lab's Impact + Innovation Forum is going virtual next month! Check the SIL website for updates and more information.