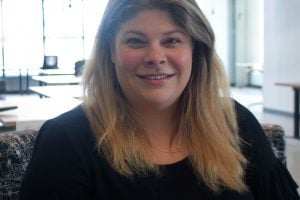 Madison Marks was studying Arabic in Jordan almost a decade ago amid a wave of anti-government protests and uprisings across the Middle East and North Africa. Working in Washington, D.C., and the Middle East since then, she has seen a surge of donors, investors and social innovators attempting to address the challenges facing the region by creating a culture of entrepreneurship through programs, investment and ecosystem building.
"One commonality among the United States, Middle East and across the globe is that there is always room for social innovators," she says. "There is some level of poverty, inequity and underdevelopment in every country; however, the differences are in the strength of support systems for social innovators to thrive."
Marks spent the last three years in the Middle East building those support systems for social innovators and entrepreneurs. Now she is doing the same in Baltimore as director of Johns Hopkins Technology Ventures' Social Innovation Lab (SIL), which provides social entrepreneurs the funding, mentorship and resources they need to develop thriving, sustainable ventures that make a measurable impact. Marks took over for Alex Riehm in August, and is the first woman to lead SIL.
"After reading the job description, I felt it had been written for someone like me," says Marks. "I knew I wanted to return to the USA and apply the skills I had learned abroad to supporting innovators who are making an impact in their communities."
While overseas, Marks worked with  "Innovation for Change" to understand the role of crowdfunding and digital security innovation in supporting regional civil society organizations. She helped launch the region's largest network of female tech entrepreneurs and supported the implementation of accelerator programs, including the region's first female-focused tech accelerator and Startupbootcamp's Smart City Dubai. Most recently, she led programming for the 120-plus Expo Live global innovators who were scheduled to attend the Expo 2020 Dubai event before it was postponed due to the pandemic.
Brian Stansky, senior director of FastForward, which oversees SIL, says Marks' "high level of energy, enthusiasm and acumen" as well as network development skills made her the right candidate to become director.
"Madison is experienced in using new technology and communications tools to bridge geographies and cultures, which I believe would be important skills in recruiting, selecting and training a cohort this year," he says.
Marks' start at SIL coincided with the launch of the 2020–21 cohort application cycle. SIL received more than 60 applications for the cohort, which will be announced Dec. 3 and then meet virtually through April. The program culminates in the annual Impact Forum, where all the teams present their solutions and a $25,000 Cohort Prize is awarded.
This year's SIL program will continue to instruct teams on validating their value proposition through customer discovery, bring in advisers to discuss leadership, marketing and partnerships, among other topics, as well as hold the weekly meetings and bootcamps that are hallmarks of the program. The new cohort also will discuss creating an inclusive and accessible culture and the importance of mental health and wellness for entrepreneurs, Marks says.
"I know there is much fatigue with the pandemic and virtual programming, but I am optimistic about the upsides of digital connections and believe that SIL may now reach entrepreneurs who previously might not have been able to commit to weekly in-person sessions," she says. "I hope we can create a sense of optimism around the potential of digital disruption in our cohort."
Raised in a homeschooled family in Jacksonville, Florida, Marks' journey to study in the Middle East was nontraditional. Listening to aid workers share stories about their work sparked Marks' curiosity in better understanding the Arab world, and she pursued a degree in Middle East studies from Florida State University. During college, she won the Boren Scholarship, a nationally competitive grant to study Arabic in Jordan. Her year abroad focused her attention on building meaningful connections between the U.S. and Arab worlds through education. She spent the next four years working in Washington with Qatar Foundation International while also pursuing her masters in Arab Studies at Georgetown University before moving back to the Middle East.
Marks says everyone she has met in the Baltimore area has been welcoming and eager to help her acclimate professionally and personally.
"Since moving here, 'Smaltimore' has felt very familiar after living in a region of the world where relationships matter, and everyone is just one or two degrees separated from one another, especially in the startup space," she says.