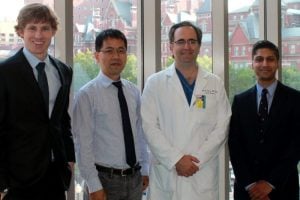 LifeSprout is moving from one Baltimore innovation hub to another as it prepares for clinical trials later this year.
The Johns Hopkins startup, which is developing next-generation synthetic soft tissues for reconstructive and aesthetic surgical procedures, has left FastForward 1812 for LaunchPort in City Garage, a makerspace and incubator in South Baltimore.
The new location has manufacturing space, which LifeSprout will use to make the proprietary components of its technology, according to CEO Eric Goorno, M.B.A.
LifeSprout was formed in 2015 and has been headquartered for the last year at FastForward, near Johns Hopkins' East Baltimore campus.
"FastForward provided LifeSprout with the ideal location to transition from concept to early prototyping while locking down the fundamental technology," Goorno says. "Now that we're at the development and scale-up stage, we're ready to go to the next step."
Johns Hopkins researchers founded LifeSprout based on technology developed in the lab of Hai-Quan Mao, Ph.D., associate director of the Johns Hopkins Institute for NanoBioTechnology. More than 3 million patients annually experience soft-tissue loss from developmental disorders, cancer, trauma or aging. Rather than undergoing invasive surgical procedures to replace the tissue, LifeSprout's injectable product immediately restores soft-tissue volume while promoting regeneration.
Among the company's founders is Sashank Reddy, M.D., Ph.D., medical director for Johns Hopkins Technology Ventures.
"To be right here at Hopkins was the perfect arrangement for us," Goorno says of FastForward.
LifeSprout received funding from The Johns Hopkins University's Cohen Translational Engineering Fund and Louis B. Thalheimer Fund for Translational Research, as well as the Abell Foundation and the Maryland Technology Development Corp. (TEDCO) Maryland Stem Cell Research and Maryland Innovation Initiative (MII) funds.
"LifeSprout is a great example of how many elements of the JHU and Maryland ecosystem can come together to form and nurture a promising venture," says Brian Stansky, M.S., senior director of FastForward. "With venture funding and the move to purpose-built space at LaunchPort, LifeSprout is poised to take the next steps toward clinical and commercial success."
LifeSprout maintains a small research space at FastForward to access critical equipment that will ensure consistent testing results in its new space, according to co-founder Russell Martin, M.S., Ph.D., head of research and development.
Martin says he will miss talking with other FastForward tenants who are going through the same startup trials and tribulations. Goorno says the company took advantage of FastForward's support services, including accounting and shared spaces.
"Having a beautiful facility with all the little details added a lot of credibility when we met with board members and potential investors," he says. "It's an easy space to show off."
LaunchPort is a medical device accelerator run by Bob Storey, a FastForward mentor-in-residence who was LifeSprout's site miner for its successful MII application. LifeSprout will have its own clean room at its new headquarters as well as more office space. The company recently doubled in size to eight employees with plans to hire more, according to Goorno.
LifeSprout will be one of the initial tenants at LaunchPort, which is aimed at startups working on commercialization of medical technology.
"LaunchPort is the perfect phase two," says Goorno.
LifeSprout recently closed its seed-series funding, which allowed for preparation for clinical trials. The company now is preparing for its Series A round, money from which will go toward obtaining clearance from the Food and Drug Administration and the European Union.
"It's an exciting time for us and we're glad FastForward was a key part of our development," Goorno says. "It's been a nice relationship and we'll want to keep the connection going as long as possible."
The Baltimore-Washington region is the sixth-ranked life sciences cluster in the nation, according to commercial real estate firm CBRE. The region experienced a ninefold increase in life sciences venture capital funding over the last 18 months, ahead of other top 10 life science markets such as Philadelphia, San Diego and Chicago. Meanwhile, lab vacancy dropped nearly three percentage points to 3.3 percent, according to CBRE, keeping availability tight and rents relatively high.
FastForward offers innovation hubs across Baltimore with turnkey solutions to startups' space needs, from individual desks to a full Biosafety Level 2 wet lab.