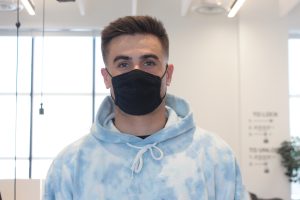 The following was written by Erica Avery, FastForward U's communications intern.
Charlie Katz, a quarterback on the Johns Hopkins University football team, had his 2020 season canceled because of COVID-19. But Katz still found an outlet for his love of sports during the pandemic by founding Blue Chip, a platform that allows users to buy and sell sports-betting advice.
"I'm around a lot of people who do that— usually on Twitter," he says. "They were so frustrated by the process and were getting scammed by people and it's really difficult to use Twitter to tell who's accurate. There's a ton of people still spending money in these unreliable ways, so I tried to think of a way to make it secure and transparent for the buyer and also give the opportunity for sellers to market themselves and get exposed to potential buyers."
Since the U.S. Supreme Court in 2018 struck down a federal ban on sports betting in all but a handful of states, more than half have legalized it, including Maryland. Blue Chip does not take or make any wagers on behalf of users so it can be used nationwide.
"There is money in this industry," Katz says. "My friends already spending money would definitely spend money on a platform like this, so I saw a need and went for it."
Katz pitched his idea to Nick Menchero, a friend and high school football teammate who's been involved in helping Katz with the venture ever since.
"I think sports betting is about to just take over— you see how much it's legalizing and used to be so frowned upon, but now even major league sports are promoting it," Monchero said.
Katz interviewed bettors and people in the gambling industry "to build the platform in my head." But his research didn't come without surprises.
"My hypothesis was the people who sell advice don't want to focus on advertising themselves and would rather focus on selling the right picks but are forced to advertise because they want new buyers," he said. "So my idea was on this platform they'll be exposed to all different buyers without advertising. But it turns out they like producing content and getting their name out there. So now we're going to give them the ability to do that on top of what we originally built."
Katz has been working since July to raise money to build Blue Chip and hopes to start development, hire a team and get a basic landing page out with some user activity by the fall, in time for football season.
"I wanted to make sure I was doing it right and I've never done anything like this before," Katz said. "I was swimming a little bit, so I was learning on the fly and very unsure."
Aaron Shapiro, a linebacker on the Johns Hopkins football team who also started his own company, led Katz to FastForward U, where he began his journey in the Spark accelerator last spring.
"It's honestly really cool just to be around other student entrepreneurs," Katz said. "Most people I'm around are focused on school or some other extracurricular, [not on] starting a business. Being able to bounce ideas off [other student entrepreneurs] and to hear them talk about the same difficulties and challenges you are going through is pretty cool."
Josh Ambrose, FastForward U's director of student ventures, noted more student entrepreneurs are creating phone applications.
"Blue Chip is a really interesting idea and Katz has showcased great creativity and tenacity in pursuing it across the past few semesters," he says. "We're excited to see his next steps. He's a great example from the ever-expanding continuum of ideas that cross our desks."
Katz is hoping he can transition from playing sports to having a sports-based business after graduation.
"I've played sports my entire life so the fact that I could potentially have a career involving sports is super attractive," he said. "It just kind of worked out that I could combine these two interests and hopefully build something for real."