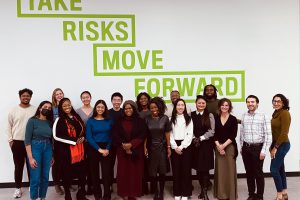 Providing young adults aging out of foster care with employment opportunities; helping veterans with resources for life and career success; improving access to locally-grown produce. These are three examples of initiatives the Social Innovation Lab's 2022–23 Accelerator cohort will pursue within their Baltimore communities.
The 10 SIL teams launched their cohort Dec. 14 with a kickoff dinner at FastForward U. Weekly curricular programming as a cohort will begin in January, with additional monthly Saturday workshops.
Over the next six months, SIL will help these innovative social ventures to further develop their early-stage projects into sustainable startups with measurable impacts in the Baltimore area.
The cohort will learn human-centered design strategies, customer discovery processes, methods to measure and scale their impact, and systems to develop a sustainable business model. The SIL hands-on workshops and trainings have a hybrid format, though many events will be in person.
Each team will receive a $5,000 stipend. Ventures will be given access to individualized business support through SIL's adviser and alumni network, technical assistance through FastForward, and training from a mix of industry leaders in the public, private and social sectors.
The SIL Accelerator cohort's program reaches its pinnacle in May with SIL's Accelerator Showcase, during which each team will pitch its campaigns to selected social entrepreneurs, investors, friends and family. Over $25,000 in additional prize money will be awarded to teams at the showcase.
The cohort will also benefit from the vast Johns Hopkins network and local social innovation ecosystem in Baltimore, says SIL Interim Director Anthony Watters.
"The cohort will benefit the most from the community they build with each other," he says. "As an alumnus of the SIL program, I always reflect on how much I learned from my fellow cohort members, as it was the most impactful part of the program for me."
SIL creates an immersive experience for students and alumni to connect with Baltimore community members and the Johns Hopkins ecosystem to build impactful solutions for sustainable change in Baltimore City, says Watters.
SIL's application process is open to Baltimore-area residents and Johns Hopkins University students and faculty and staff members seeking mentorship and guidance for their social initiative. The 10 selected teams were chosen based on the stage of the venture's formation process, diverse focus on Baltimore and anticipated growth potential.
Communal effort from local government, institutions and small businesses are integral to positive change in Baltimore, says Watters. SIL highlights the benefits of placing community at the center of the conversation, he adds.
SIL's accelerator has supported over 110 ventures since starting in 2012. Three-quarters of the active ventures are based in Baltimore. SIL teams have raised over $85 million in total funding through philanthropic and venture investment, and the active ventures provide full-time employment to almost 400 people. SIL also runs skills-based bootcamps through which almost 600 people have received short-term support for idea-stage social ventures.
"It is my hope that we can empower Baltimore community members with the tools and resources needed to create jobs, grow the local economy, and most importantly, revitalize communities by using innovative approaches to provide resources where they are needed most," says Watters.
Three teams in this year's cohort are from JHU, and seven teams are from the greater Baltimore community. Ninety percent of the teams are led by founders of color, and 90% of the teams are co-led by female entrepreneurs. This year's teams are: