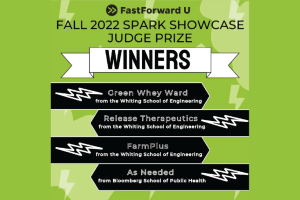 FastForward U's Spark Showcase was held as a live Zoom event on Dec. 9, and featured 46 student teams from across all Johns Hopkins campuses. The record number of teams participated in the early-stage startup accelerator to turn their ideas into ventures. Award-winning teams received prizes totaling over $10,000.  
Spark is an early-stage track accelerator for student teams to explore and validate their concepts while benefiting from asynchronous curriculum that focuses on early venture basics, market research and customer discovery. In addition to weekly mastermind check-ins for brainstorming and feedback on venture concepts, each participating team receives a $500 stipend award. 
Teams ranging from undergraduate students to Ph.D. candidates presented to a panel of judges and audience members during the Spark Showcase. Precisely 288 audience members attended the event virtually, marking another record number for this cycle's cohort. 
Judges from various industries included Sean Sutherland, chief marketing officer and partner at Kapowza; Dave Prakash, founding member and general manager of Vulcan Capital Group; Chris Ganan, investor and builder at Fourth and G Holdings; Jack Fischer, investment banking associate at MTS Health Partners; Tom Jacklitsch, co-founder and chief technology officer of Order; Mohamad Elgendi, business operations at Atomic VC; and Nicole Snell, associate director of ventures at JHTV. 
Top prizes of $2,500 were awarded to four teams: GreenWheyWard, led by Whiting School of Engineering student Bay Xu; As Needed, led by Bloomberg School of Public Health student Ishani Sheth; Release Therapeutics, led by Whiting School of Engineering student Anders Sideris; and Farm Plus, led by Whiting School of Engineering student Manav Badamwala. 
Release Therapeutics is a preclinical-stage medical device startup that develops drug delivery solutions for common problems in ear, nose and throat surgery, with a focus on uncontrollable pain and life-threatening bleeding after tonsillectomy. The stipend and prize money will enable Release Therapeutics to further research and validate their technology before moving into human trials, says Release Therapeutics co-founder Anders Sideris. 
"Spark enabled me to deliver the impact of what my medical device is intended for, ensure a robust path to market, and accelerate access to the patients who need it," says Sideris. "Spark inspires me to be an entrepreneur and remain part of the vibrant startup ecosystem that is FastForward U." 
Release Therapeutics plans to move toward the first human clinical trial in two years, with funding and support from FastForward U, says Sideris. 
GreenWheyWard is a startup centered around producing pure vegan whey protein with a minimal carbon footprint through retail and direct distribution to consumers. GreenWheyWard will use the stipend and award funding to pursue more pitch competitions, social media platform advertisements, proof-of concept surveys and potential crowdfunding says GreenWheyWard co-founder Bay Xu. 
"The Spark journey gave us the opportunity to experience the process of having an idea, testing the idea, proving the idea and pitching the idea," says Xu. "In addition, we also gained valuable insights from our strategic adviser and judges." 
Another four teams received $500 audience choice award prizes: Vicinity, led by Krieger School of Arts & Sciences student Madeline Sukhdeo; Fetal Therapies, led by Whiting School of Engineering student Selena Shirkin; Housing AI, led by Whiting School of Engineering student Iris Gupta; and The Maure Label, led by Johns Hopkins University School of Nursing student Maureen Onyebuchukwu. 
Vicinity is a resource Johns Hopkins University students can reference to familiarize themselves with events and points of interest in the surrounding Baltimore area, says Vicinity co-founder Madeline Sukhdeo. 
"It was great to have the structure of Spark and a community of like-minded people who were always willing to help out," says Sukhdeo. "I highly recommend Spark for any student looking to start a business." 
Completing the Spark accelerator advances ventures to the next development stage, where committed ventures become ready for market and investor presentations. For Release Therapeutics and GreenWheyWard, applying to join FastForward U's Fuel Accelerator program is the next step. 
Fuel's advanced programming focuses on customer acquisition, marketing development, entrepreneurial finance, investor readiness and team-building with weekly cohort meetings. Fuel features multiple mentorship, industry networking and funding opportunities for participants. 
FastForward U's Spark and Fuel accelerators both run each semester. The next application cycle is open now, and will remain open until January 25. The new cohort will begin in early February, and will conclude at the end of the spring semester.