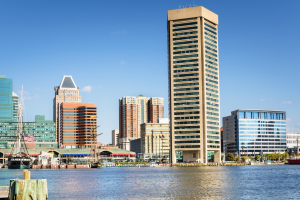 Startup News
Delfi Diagnostics Announces $225M Series B
The funding will support the continued development and commercialization of high-quality and accessible blood tests for single cancer early detection, multi-cancer early detection, and treatment monitoring.
Phantom Neuro Announces $6M in New Seed Financing
The company, which is developing platform technology for prosthetics, will use the funding to study its system in pigs, founder and CEO Connor Glass told The Wall Street Journal.
Pearl Diagnostics Raises $3.5M 
The company plans to use the funding to focus on manufacturing, in preparation for the commercial launch of its urine antigen test for fungal pneumonia. It also will seek approval from the U.S. Food and Drug Administration.
The Social Innovation Lab alum, which mixes dirt bike culture and STEM learning, received the money through Baltimore City as part of the federal American Rescue Plan Act to continue to grow its mission.
Ballet After Dark Wows Judges on "America's Got Talent"
The Social Innovation Lab alum made it through the first round of the televised talent competition.
Synteris Receives $2.7M Federal Grant for 3-D Printing
The Baltimore materials company will use the money from the U.S. Department of Energy to create a new style of ceramic packaging for electronics, an innovation that is designed to improve the performance of electric vehicles and aircraft.
BurnAlong Reaches 20,000 Fitness/Wellness Classes
The startup now has users in all 50 states and 70 countries, according to founder Daniel Freedman.
Ellington West Named One of BBJ's 2022 Women of Excellence
The CEO of Sonavi Labs was honored by the Baltimore Business Journal in the technology category.
The Be. org Partners with Baltimore's YouthWorks
The Social Innovation Lab alum is using virtual reality to teach game development and programming to Baltimore teenagers.
Krystle Starvis will lead technical and educational assistance to organizations that CLLCTIVLY supports in Baltimore, as well as manage flagship programs like the Social Innovation Lab alum's annual Day of Giving and the #28DaysofBlack Futures campaign.
Sonavi Labs Wins $50K in National Competition
The digital health startup was one of five from across the country to receive non-dilutive funding through Advanced Technology International (ATI) and TechConnect's Medical Innovation Challenge.
"The app is a part of a set of tools that we are deploying that will render blight obsolete," founder and Social Innovation Lab alumn Nneka N'namdi told Technical.ly. 
The life sciences startup appointed Stacey Gilbert as vice president of market access and reimbursement, and Lisa Kann as vice president of product development and strategy.
Ecosystem News
Johns Hopkins Among Top Schools Worldwide in U.S. Patents Granted
The university had 144 patents granted in 2021, the 11th-most in the world, according to the National Academy of Inventors.
Christy Wyskiel Talks JHTV Inventor's Guide
JHTV's executive director spoke with The Daily Record and Technical.ly about our latest resource for Johns Hopkins faculty and staff. She also was quoted in a Technology Transfer Tactics story about the guide.
Maryland Sees Q2 Increase in Venture Funding
Companies in the state raised almost $750 million in funding, more than double compared to the first quarter.
Mark VanderZyl Quoted in University Industry Engagement Advisor
VanderZyl discussed the Johns Hopkins-Microsoft collaboration, which UIEA says "demonstrates a path forward for universities in seeking partnerships through industry involvement in campus startups."
Sashank Reddy Profiled by the Maryland Stem Cell Research Fund
JHTV's medical director talked about his lab's work improving soft tissue regeneration, funded in part through an MSCRF grant.
Baltimore Bids for $1B Federal Research Agency
City officials and business leaders want to land the National Institutes of Health Advanced Research Projects Agency for Health,  which aims to improve the government's ability to speed up biomedical and health research.
100+ Maryland Companies Make 'Inc. 5000'
Of the 131 fastest-growing companies based in the state, financial services company Facet Wealth was highest on the list at No. 46.
New Baltimore-Based Fund Aims to Invest in BIPOC Businesses
Conscious Venture Partners' Conscious Venture Fund II already has $15.8 million of its $50 million goal and is on track to becoming the largest minority-managed fund in Baltimore.
Liquid Biopsy Test for Breast Cancer Featured on WMAR-TV
Saraswati Sukumar showed off a prototype test that can accurately detect the presence of cancer DNA in the blood of patients with metastatic breast cancer within five hours.
DMV Ranked Second-Best Life Sciences Market in Country
Real estate and investment firm CBRE put the Baltimore-Washington region behind Boston/Cambridge and ahead of the San Francisco Bay area.
Whiting Spotlights Student Entrepreneurs
The engineering school's website now features a page focused on student entrepreneurship.