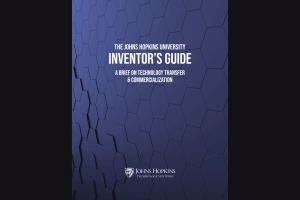 Johns Hopkins faculty and staff have a new resource to help them on the path to commercialization.
The Johns Hopkins University Inventor's Guide provides an interactive overview of the technology transfer process and the services offered at Johns Hopkins Technology Ventures (JHTV).
"Our commercialization efforts on your behalf can go in a variety of directions, and this Inventor's Guide attempts to succinctly introduce you to the common topics, paths, policies and processes you may encounter," says Christy Wyskiel, JHTV's executive director. "We also hope to dispel some myths about tech transfer along the way."
You can read or download the Inventor's Guide here. More information on any topic can be found on our website, including a separate, comprehensive Startup Guide for those interested in founding a startup company.