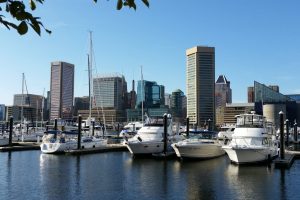 Startup News
Ashvattha Therapeutics Announces $69 Million in Series B Financing
The company also announced a separate, $45 million licensing agreement with Huadong Medicine to develop and commercialize treatments to sell in China and parts of Southeast Asia.
EcoMap Announces $3.5M Seed Funding Round
The company, which creates platforms to help people navigate ecosystems, plans to hire new employees and increase brand marketing. All new employees will either live or relocate to Baltimore, according to founder Pava LaPere.
Galen Robotics Holds First Open House
The company showcased is surgical robots at its Pigtown offices. Baltimore Mayor Brandon Scott also delivered remarks.
emocha Health Names 4 New Executives
The digital health company hired a chief operating officer and vice president of marketing and communications while also promoting a chief product officer and senior vice president of business development and client success.
b.well's Founder Named to 'Top 25 Women Leaders in Healthcare Software'
Kristen Valdes was No. 5 on the list compiled by The Healthcare Technology Report, which writes that Valdes "leveraged her extensive experience in leadership and health to build b.well into a transformative player in the healthcare landscape."
Glyscend Therapeutics Completes Phase 1 of Clinical Trial
The company's lead clinical-stage program, GLY-200 is a treatment for Type 2 diabetes. Glyscend also named Mark Fineman as its chief development officer.
Sisu Global Health Plans Expansion
The medical device startup raised approximately $1 million in the last yea ran and is looking to hire a sales team in India to grow its business in Southeast Asia.
Mooji Meats Announces $3M Raise
The 3D printing company plans to use the money to increase its lab capacity and hire more employees. It graduated from the Y Combinator accelerator earlier this year.
Puzzling Disorder Project Featured on WMAR-TV
"I've always been the type of person like how can I help? How can I make a situation better than when I got there?" said Nikki Stokes, founder of the startup and member of the 2021-22 Social Innovation Lab cohort.
LymphaSense Makes a Splash at West Coast Pitch Competition
The student startup won second place and "Best Elevator Pitch" at the University of Oregon's Charles H. Lundquist College of Business New Venture Championship.
MindStand Technologies' Founder Talks about Lessons from Mentors
"From inviting me to one of the first Equitech Tuesdays to hosting empowerment events for overlooked builders, Kory [Bailey of UpSurge Baltimore] showed me that business isn't just numbers; it's building solid relationships and building off your character," Michael Ogunsanya told Technical.ly.
Proscia Raises $37M Series C Round
The digital health company, co-founded by Johns Hopkins University students, has raised a total of $72 million.
Delfi Diagnostics, PGDx and Thrive Cited for Their Technologies
BioBuzz cited the four Baltimore-based startups for their cancer-screening innovations, noting the cancer diagnostics market is "expected to grow to $257 billion by 2030, more than double the $124.9 billion valuation in 2021."
Ecosystem News
Christy Wyskiel Talks About the Need for More Wet Lab Space in Baltimore
JHTV's executive director tells Technical.ly that she "hopes to see more planful and concerted state action, however, with 'the legislature and the governor coming together and coming up with a plan that is as good as what Massachusetts did.'"
JHTV's Seth Zonies Discusses JHU-Amazon AI Initiative
"The fact that several faculty members are now Amazon Scholars — working part-time at the company — 'created an even more clear opportunity, because they know what happens on the inside and have deeper relationships with the decision makers. So, it all started to crystallize,'" Zonies told University-Industry Engagement Advisor
UpSurge Baltimore Celebrates 1st Anniversary
The organization, supported by Johns Hopkins University & Medicine, aims to support local startups and make Baltimore the nation's first "equitech" city. It issued an annual report and CEO Jamie McDonald told Technical.ly the city now has "a critical mass of really investible early-stage companies."
Baltimore-D.C. Has Second-Best Life Sciences Market in U.S.
CBRE's inaugural report identifying and analyzing the top 25 domestic markets for life sciences talent puts the region behind Boston/Cambridge and ahead of the San Francisco Bay Area..
Jennifer Elisseeff Selected to Join American Academy of Arts and Sciences
Elisseeff, who specializes in the field of regenerative medicine, is director of the Translational Tissue Engineering Center.
JHTV's Mark VanderZyl Interviewed About Mentor-in-Residence Program
VanderZyl talked with Osage University Partners about how JHTV's program works, managing conflicts of interest and the need for diversity in mentors.
Johns Hopkins Inventor Takes 2 of 4 Spots in Pitch Competition Finals
Chao Wang, an associate professor in the Department of Chemical and Biomolecular Engineering, will be presenting two of his technologies June 21 during the Maryland Energy Innovation Accelerator Pitch Finale.
Tech Job Postings Continue to Grow in Baltimore
"The Baltimore metro area saw 19,369 tech job postings from Jan. 1 to April 30, compared to 15,521 in 2021," Maryland Inno reports. "The 25% increase from last year's tech job posting numbers is higher than some other post-industrial cities such as Pittsburgh (19%) and Columbus (17%)."
Catalio Capital Management Raises $381M Fund
The life sciences investment firm's Nexus Fund III started raising earlier this year and attracted more than 250 investors. Among Catalio's previous investments are in Thrive Earlier Detection and PGDx.