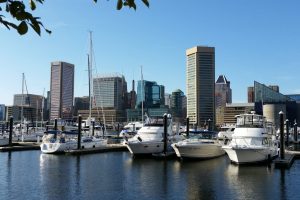 Startup News
Tissue Analytics Acquired by Net Health
Tissue Analytics developed mobile wound and skin imaging technology that Net Health plans to integrate into its WoundExpert electronic health record.
AsclepiX Therapeutics Raises $35 Million Series A
The money will go toward clinical trials of AXT107, its lead drug that treats a variety of eye diseases.
CLLCTIVLY Founder Discusses Supporting Black Communities 
"I think real equity is [rooted in] how do we shift resources in a meaningful way to black communities so that they're able to thrive," Jamye Wooten, a member of the Social Innovation Lab's 2019-20 cohort, told Technical.ly.
Glyscend Therapeutics Raises $20.5M Series A
The funding round will help advance the company's treatment for Type 2 diabetes toward clinical trials next year.
The medical device company received $100,000 from TEDCO's Pre-Seed Builder Fund. ClearMask was also featured on WJZ-TV for making its equipment during the pandemic.
BurnAlong Raises $4M in Latest Funding Round 
The health tech startup, which offers streaming fitness, health and wellness classes, has seen an increase in business since the onset of the coronavirus pandemic.
Thrive, emocha Mobile Health, b.well Connected Health Win Baltimore Business Journal's Best in Tech Awards
The inaugural Best in Tech Awards honor those firms and individuals who have left a resounding impact on the Baltimore region's tech scene.
Vita Therapeutics Receives Orphan Drug Designation from FDA
The company's VTA-110 is a novel regenerative therapy for the treatment of Duchenne's Muscular Dystrophy. ODD status is given to medicines intended for the treatment, diagnosis or prevention of rare diseases or disorders that affect fewer than 200,000 people annually.
Relavo Wins $500,000 in KidneyX Accelerator Competition
KidneyX is a public-private partnership between the U.S. Department of Health and Human Services and the American Society of Nephrology to accelerate innovation in the prevention, diagnosis, and treatment of kidney diseases. The student startup was the youngest and only female-founded startup honored.
Relavo Takes 7th Overall in Rice Business Plan Competition 
The medical device company was awarded $70,000 in funding, the $25,000 Courageous Women Entrepreneurs Investment Prize and $25,000 Southwest National Pediatric Device Prize.
PGDx Looks to Raise $3.5M Following FDA Clearance
Maryland VC Funding Defies Dire Pandemic Predictions, Rises in Q2
"Maryland companies collectively received $358 million in venture capital funding for the second quarter of 2020, marking a big uptick in dollars over the prior quarter even amid a global pandemic and economic downturn."
Baltimore Coworking Spaces Stay Flexible During Coronavirus
The spaces "may soon become hotbeds of activity as companies nationwide mull whether more flexible office models may be better options moving forward. But for now, they are working to remain afloat, and to find ways to continue supporting the young companies that make up their memberships."
Johns Hopkins-Microsoft Partnership Cited by Becker's Health IT
The deal was cited as an example of precision medicine, one of the publication's 10 most significant advancements in health care technology during the pandemic. "The pandemic has accentuated the need for reliable precision medicine available to health care providers."
Baltimore Sun Editorial: Is Novavax's $1.6B Vaccine Contract Is the Start of Something Big?
"What should not be lost in the celebration of this one company's success and the hope for a vaccine that might put the coronavirus behind us is the economic opportunity offered by these knowledge-based enterprises and how this state should be doing everything possible to nurture and sustain these businesses."