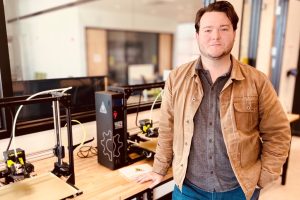 The following was written by Erica Avery, FastForward U's communications intern.
The Johns Hopkins University Makerspace, located at FastForward U on the Homewood campus, has officially reopened its doors with a new manager.
Luke Ikard was previously an instructor at the Maryland Institute College of Art, where he taught classes focused on traditional woodworking and rapid prototyping.
"During the pandemic, I reflected on what I enjoyed about teaching and found the shop environment to be where I find the most joy as an educator," he says. "The ability to pass on making skills and creating a safe space for students to learn is something I find deeply rewarding. I am so excited to be in this position and grow alongside the JHU Makerspace."
The 2,000-square-foot Makerspace features 3D printers, laser and vinyl cutters and rooms fully equipped for metalworking and woodworking.
The space is managed by the Whiting School of Engineering and is open to all Johns Hopkins students and faculty and staff members. Priority for using the space is given to personal projects unrelated to coursework. (Projects for coursework or research are also supported by WSE Manufacturing, located in the Wyman Park Building, and other departments across campus also support manufacturing.)
Theo DeGuzman, a sophomore mechanical engineering and computer science double major, has extensive experience machining and woodworking and started a business called Precision Design3d with FFU's help, doing freelance 3D printing and design work. DeGuzman said he is excited the Makerspace has new printers that he believes provide high-quality prints to help students with manufacturing and prototyping.
"The newer machines will be far easier to use, and therefore, more accessible, which will be valuable for providing additive manufacturing resources to the greater Hopkins community," he says.
Ikard also is interested in 3D art, which led him to attend MICA as a student prior joining the faculty. He studied digital fabrication as well as kinetic and interactive sculpture making.
"Digital fabrication has become an essential part of my art practice, and through this pursuit, I found a fondness for tinkering," Ikard said.
Ikard said he hopes the Makerspace becomes a reliable resource for students to explore their creative sides. He would like to expand the space's resources and develop weekly programming, as well as long-term projects connecting students with the community.
Users must take a general training course before being able to access the Makerspace, and additional training courses are available for specific pieces of equipment. The main space is accessible 24/7, while certain areas, including the metalworking and woodworking rooms, are only available during staffed hours Monday through Saturday.
Tools in the Makerspace were provided by Stanley Black & Decker.
For more information or to schedule a training session, visit makerspace.jhu.edu.